I live in Texas.  Land of fried food, barbecue and Tex-Mex goodness.  While I showcase a lot of Tex-Mex and have worked a few twists on classic barbecue dishes, I've stayed away from fried recipes.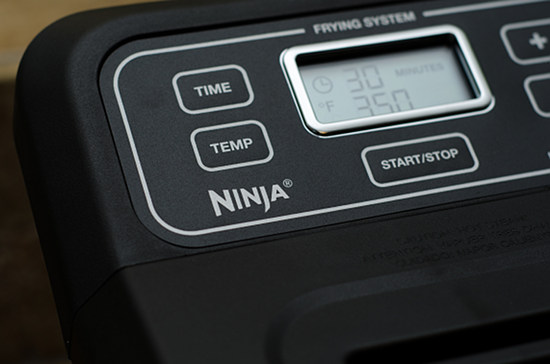 Make no mistake — I LOVE fried catfish, hushpuppies, onion rings and empanadas, but the act of frying scares me.  Popping oil?  No thanks.  Plus, there's that whole "fried" word being synonymous with "unhealthy."  All in all, fried favorites are a rare treat in this house.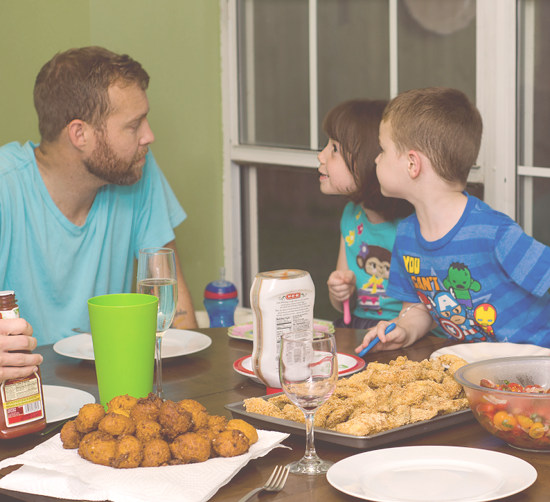 (A "Goodbye Dinner" for some family who moved … our last time for some good ol' Southern food)
But, with the latest appliance to cross the threshold (which was sent to me for review), there is a potential answer to my fears: the Ninja Professional Frying System.
What The Ninja Frying System Does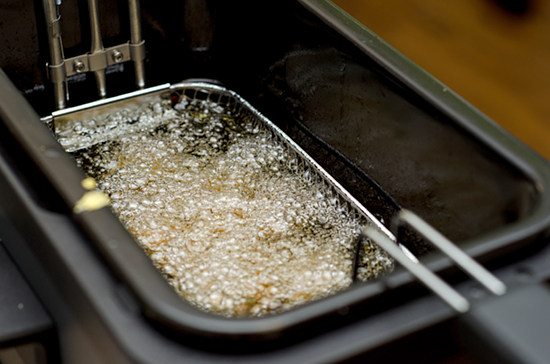 The Ninja frying system claims to be a "healthier way" to fry foods, allowing you to indulge with less guilt.
Favorite fried dishes are cooked with 30 percent less fat and 40 percent faster due to its revolutionary heat combination that keeps cooking oil at a uniform temperature, so foods cook to light, crispy perfection – with less oil absorption.
The Ninja Frying System offers "hands-off frying".
The patent-pending basket lid keeps all food completely submerged in the oil so food is cooked evenly without the need for flipping or turning in the fryer.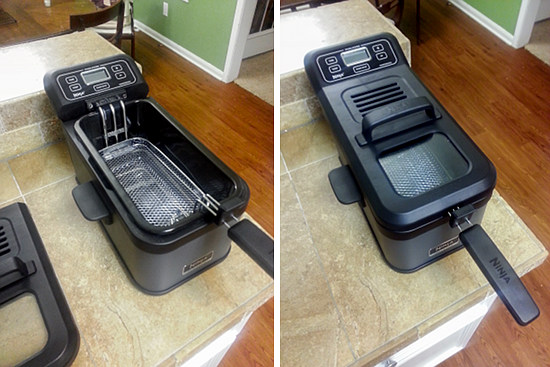 Retailing for $99 (MSRP), the Ninja Frying System has several key features:
Removable enamel oil reservoir, an easy-to-empty oil spout and the lid/oil reservoir are dishwasher safe
Equipped with Cool Zone Technology that keeps oil cleaner for a longer period of time
Additional features include:
Lid with a large window for easy viewing
Easy-grip basket handle
Cool-touch exterior
Powerful 1800 watts
3 liter capacity (cooks up to 3.2 lbs. of food)
Digital LCD timer and display
[exceptional-citing quoted="rachel" template="bubble-blue-round" date="" ]But …. what do I think?[/exceptional-citing]
The Pros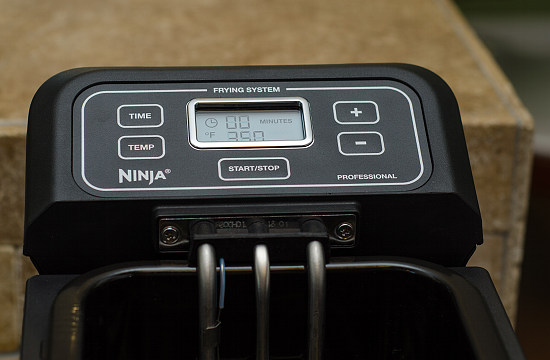 Straight out of the box, the appliance was easy to assemble.  The Husband had it together within a few minutes.
The fill line is easy to see so there isn't any guesswork involved when it comes to adding the oil.
Loved, loved, loved being able to throw the lid and oil reservoir in the dishwasher.  Dishwasher safe components are ALWAYS welcome in this house.
The LCD display is easy to read and being able to set the time and temperature for the device makes it nearly fool-proof.
It is light-weight and "short", making it easy to store inside one of our cabinets.
The Cons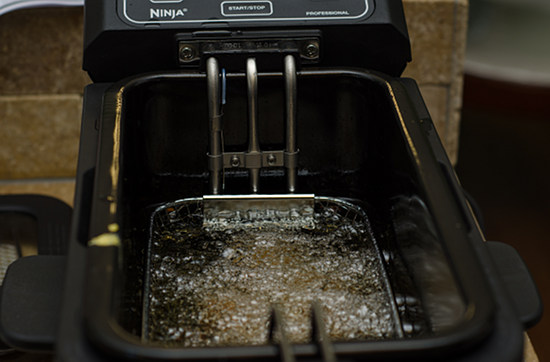 It is a great size when cooking for a single person or a small family, but if you are cooking for more than 3-4 people, expect to stand at the machine a long time.  It took 120 minutes to fry catfish and hushpuppies for eight people.
The lid does keep spatters contained while cooking but you have to be VERY careful when removing the lid.  I found myself popped a few times with hot oil when removing the lid; the issue stemmed from condensate that formed inside the lid.  When I would remove the lid, those drops of water would loosen and fall into the hot oil, causing spatters to spray upward.  Not fun… especially if you're already a little leery of deep-frying.
The basket and basket lid are designed to keep the food submerged during the cooking process, in order to eliminate flipping/turning.  However, when we have used it, even thought the oil was at the correct level, the basket lid didn't always keep everything submerged, which meant I had to deal with removing the lid an extra few times to turn the food.
Even on the first use, the heating element became coated with oily "gunk".  The boxed instructions that came with the unit offered absolutely no directions for cleaning this part.  While it obviously couldn't be put in the dishwasher, we were unclear if soap and water could be used at all on the heating element.  Furthermore, because of the way the heating elements run down the machine, it was hard clean everything with simply a rag or paper-towel.  A small bottle brush or kitchen brush was needed to really get around all of the tight spaces.
Final Thoughts on the Ninja Frying System
All in all, yes, it is nice to have a "counter-top" way to prepare some Southern comfort food; I, however, will not use this again for a crowd.  Standing over one appliance, cooking, for nearly two hours wasn't fun and, as we hadn't anticipated needing such a long time, made for some very hungry and crabby children.
It will, though, continue to be used for appetizer or side recipes, like onion rings or green bean fries or perhaps battered shrimp.  As mentioned before, it would be best suited for singles, couples, or small families who don't need large batches of food.
As for the claim that the food is healthier … well, it is fried food.  The Ninja may or may not have food sitting as long in the oil but fried foods still aren't something my heart or waistline could enjoy more than a few times a year.
For more information about the Ninja Frying System and additional Euro-Pro products, please visit NinjaFryingSystem.com.
You can also learn more on Facebook at Facebook.com/NinjaKitchen and @NinjaKitchen on Twitter.
Disclosure: I was provided this Ninja Frying System to facilitate this review; all opinions expressed are my own.