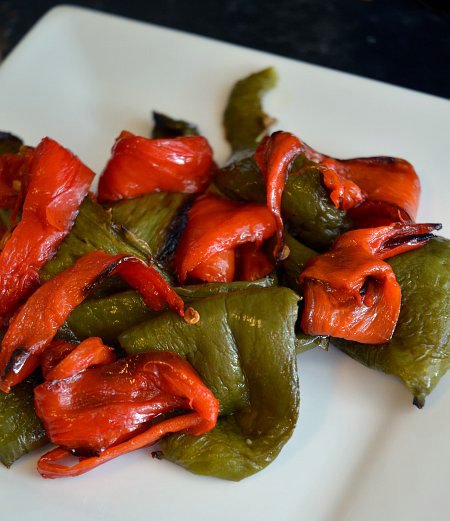 I have been a roasting fool for the past two years — corn, peppers, potatoes of all hue, broccoli, beans, fruit — the list is nearly endless.  If a fruit or vegetable could hold up to heat, there is a good chance I tried roasting it.
Roasting is simple.  Easy peasy.  And it does something magical to the food or ingredient.  Unlike any other cooking method for fruit and vegetables, it brings out the full flavor hidden behind red, green and yellow skin.  There is a smoky sweet depth unleashed when vegetables are placed in the oven.  And I lurrrrve it.
As for the process itself, well, as I already stated — it's easy.  Simple enough for the Husband, who can now roast any vegetable thrown his way.  With a little oil and a foil liner for easy clean-up, your vegetables and fruit are ready for the slow heat of your oven.
Bell Peppers are something I have been roasting for while now and I love how versatile they are.  Whether used in my Roasted Red Pepper Pico de Gallo or in my Roasted Pepper Chicken Quesadillas (which I posted today at 5 Minutes for Mom), these roasted peppers definitely bring their A-game to any recipe.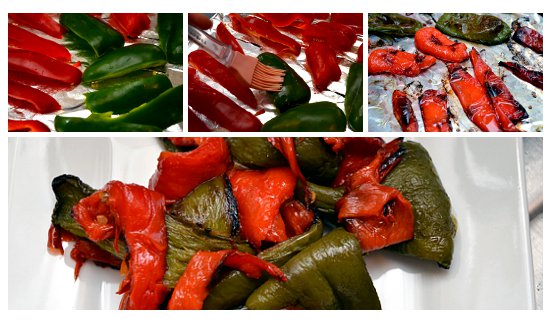 If you end up with more roasted peppers than you know what to do with (a viable possibility once you discover how much better "home-roasted" peppers are to the jarred options from the grocery store), you can find a tutorial on freezing whole roasted peppers at Kalofagos
[print_this]
[/print_this]