When it comes to gift-giving, I tend to stress out.  It makes me nervous, wondering if I made the right choice.  You see, I don't have the best track record when it comes to picking out presents.  Kids' birthdays are the worst — overtime the birthday boy or girl opens our gift, I learn it's silly, too babyish, too old, or something he/she already had.
Sigh….
But, when it comes to the Husband, I am AWESOME.  Maybe it's because he drops hints all. year. long.  Maybe it's because we've been married forever and I just know the man — know what he really wants and what will make him smile and cry.
(True story)
This year, he has a few surprises under the tree: a few he's mentioned wanting (but, of course, doesn't know he's getting) and one that completely caught him off guard.
Yes — past tense.  I already gave it to him 'cause I just couldn't wait.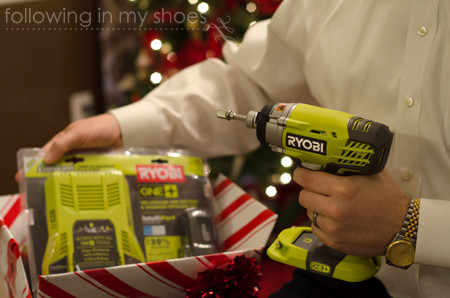 Lithium Ion Tools from Home Depot
The Husband unwrapped a Ryobi One+ 18v Impact Driver and a Ryobi One+ 18v Lithium-Ion Battery/Charger Kit.
(He was a happy, happy, happy man.)
Lithium Ion technology started in power tools in the home improvement sector and now crosses into categories like outdoor power, paint and flooring. Lithium Ion tools such as the Ryobi ONE+ system feature batteries that are compatible with more than fifty tools and hold a charge up to four times longer than traditional Ni-Cad batteries.
The Home Depot has quite the selection of Lithium Ion tools if you're looking for the perfect gift for your Handyman (or Handywoman… girls like a power tool too!)
Not sure which tool to get?  No worries — The Home Depot has a litany of gift-card options.  Cards you can buy in store.  Cards you can send online.  Cards through Facebook.  And even cards to make your recipient smile.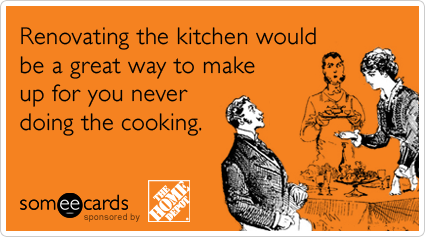 The Home Depot Gift-Card Options
Group eGift Cards on Facebook

Team up with your Facebook friends and family to buy an eGift Card. Contributions submitted from invitees allow the amount of the eGift Card to increase and the joy of the recipient to multiply.  You can also include a personalized message with the eGift Card, which can be delivered via email or posted on the recipient's Facebook Wall.

Someecards eGift Card Giving

The Home Depot has partnered with Someecards, the popular satirical e-card site, to deliver two exclusive, hilarious eGift Card options for the shopper with a silly side.  You can find these someecard eGift Cards on homedepot.com/giftcard and through The Home Depot's Facebook page.

Facebook eGift Card Delivery

If you choose to purchase eGift Cards online at homedepot.com/giftcard, you have the option to post the eGift Card directly to your recipient's Facebook Wall.  Simply choose Facebook as the delivery method, log into your Facebook account to select your friend and then continue with the eGift Card check out process.  Only the recipient can retrieve the eGift Card, but all of their friends will be Christmas tree green with envy when the gift pops up on their newsfeed.

Mobile Options

Buy eGift Card & Check Balance via The Home Depot iPhone App (or The Home Depot mobile site.

Plastic Gift Cards Sent in Hallmark Branded Greeting Cards

Designs including Christmas, Hanukkah and multicultural themes
Regardless of whether you wrap a Lithium-Ion tool (like the Ryobi-One tool I gave the Husband) or you select one of the MANY gift card options, something from The Home Depot will be sure to make someone on your list happy.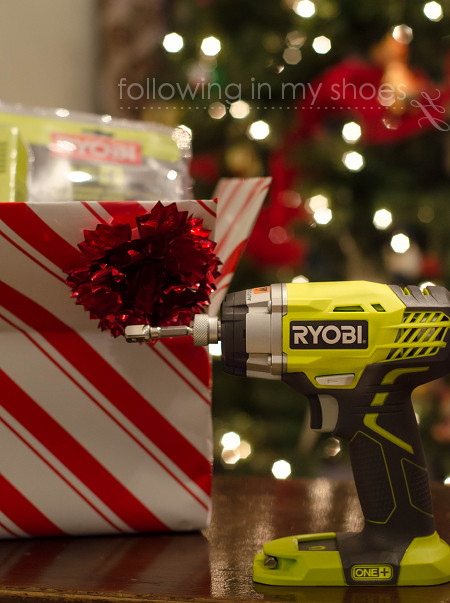 One reader has the chance to win a giveaway for the Ryobi One+ 18v Impact Driver AND the Ryobi One+ 18v Lithium-Ion Battery Kit … yup, you (or a loved one, if you feel like sharing) can have hours of battery use as new Christmas toys are put together, bathrooms are remodeled, or any other "honey-do" item is checked off your to-do list.
To Enter

In a comment below, tell me the best gift you've ever given someone.
Bonus Entries
I know some of you like extra chances in a giveaway, so here they are.  Any of the following options may be completed for extra entries into the giveaway.  These additional entries are completely optional and not required. 
*Please leave a separate comment for any completed extra entry.*
Follow me on Twitter
Follow me on Pinterest
Tweet this giveaway (for your convenience, you may use the "tweet" button located at the top of this post; this post may be tweeted a max of 2 times daily — please leave the URL of your tweet in your comments below)
This is going to be a quick giveaway, ending December 18th at noon (CMT).  Winner will be notified by email and will have 24 hours (from the time the email is sent) to confirm his/her win.
Thank you, Home Depot, for providing this gift in exchange for me facilitating this giveaway.