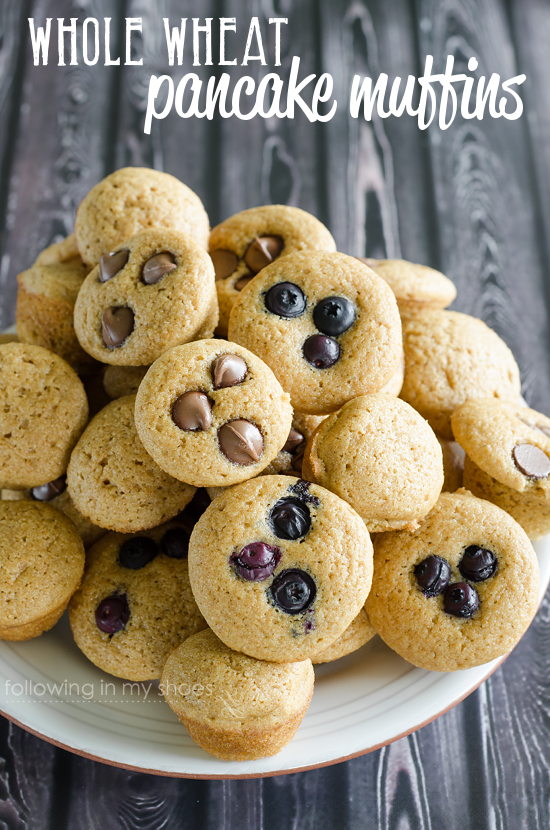 It's the weekend.
For my Husband weekends mean yard work and football.  For me? Meal planning and food prep.  After my first week of school for all of us (yes, Teacher Mommy included), I can say with with confidence that last weekend's meal prep saved me from slipping into a dark place of complete insanity.
Oy vey, people!!  Working with 14 two and three year olds is hard work and it completely zapped me.  Most nights, I found myself passed out by 8:30 pm — THIS NEVER HAPPENS!  I am notoriously a night owl but not during this time of transition.  Right now, I sleep.
Thankfully, spending a couple of hours last Saturday on breakfast, lunch, snack, and dinner prep allowed my weary bones more time in the mornings and evenings for sleep.
Pancake Muffins are the new number one favorite breakfast and snack treat in this house.  I first made them for Mr. Boy's Superhero Party (he requested breakfast food to be served) and they were surprisingly easy to throw together and delicious.  DELICIOUS.
You've probably seen them all over Pinterest, which is where I first encountered them.  But, there, all I ever found were instructions for making these "Puffins" (as they are sometimes called) with Pancake Mix.  Yeah, y'all — I'm too cheap for Pancake Mix.  I haven't purchased it in years because I already keep all of the dry staples one needs for pancakes: flour, salt, baking powder, and baking soda.  Why spend more money on a mix that saves maybe an extra minute or two?  Yeah, not for me.
So, without Pancake Mix in the house, I had to change up a bit and went "old school"  ("old kitchen"????) with a from scratch recipe for Whole Wheat Pancake Muffins.    They are nearly as fast as the "mix" recipe …. healthier (because you don't have as many preservatives and additives as the mix) … and they are freezer friendly!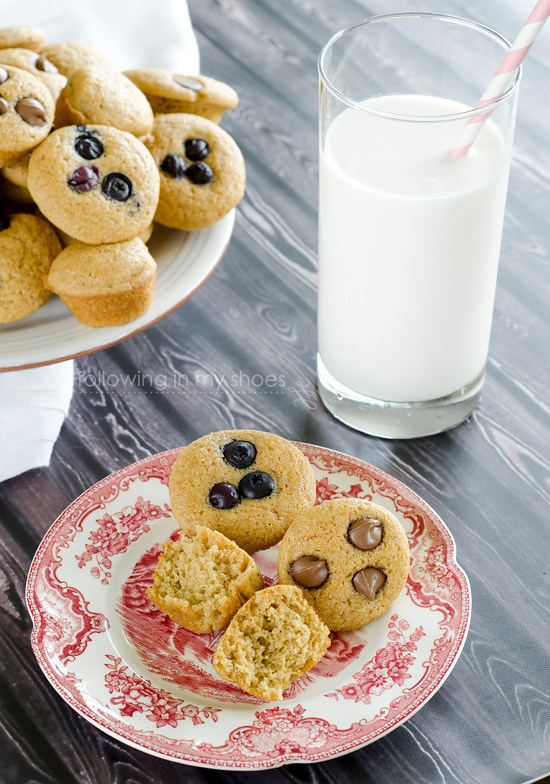 I made a triple batch last weekend — fed a few to the Kidlets (who clamored for them once they saw the little muffins in the oven) — and then froze the remainder.  As we needed (ok, ok — WANTED) them, I would bring some out to thaw for breakfast and then everyone tore into them like little maniacal vultures.
Yes, my children are vultures.  It's true.

Whole Wheat Pancake Muffins
*makes 18 mini-muffins
Ingredients
1 cup Whole White Wheat Flour
1 teaspoon Baking Powder
¼ teaspoon Baking Soda
¼ teaspoon Salt
⅓ cup Syrup*
⅔ cup Water
Toppings of choice: blueberries, bananas, chocolate chips, crumbled bacon.
Instructions
Preheat your oven to 350 degrees.
Prepare a mini-muffin tin by lightly spraying or buttering.
Mix the dry ingredients together and then add in the syrup and water. Mix well till combined (will NOT be as thick as normal muffin batter).
Divide the batter into each muffin cup in the pan, filling each cup ⅔ full (overfilling is fine -- will just result in the batter rising over the top of the cup and spreading a bit).
If desired, you can top each mini-muffin with the topping of your choice (see ingredient list).
Place the pan in the oven and bake 9-13 minutes or until tops are firm and springy to the touch.
Remove and let cool for 1 minute and then remove the muffins, serving immediately OR placing them on a wire rack to cool completely before flash freezing.
To Freeze:
Place a piece of parchment paper on a cookie sheet or small baking pan (that will fit in your freezer); line the cooked and cooled muffins on the parchment paper and place the pan in the freezer.
Let freeze for one hour and then remove, placing the muffins in a freezer-safe bag or container. Place back in the freezer until ready to serve.
To Thaw:
Remove any or all of the muffins from the freezer and allow them to thaw at room temperature (20-30 minutes). May be served once thawed or warmed in oven/microwave if desired.
Notes
*If you choose to use pure maple syrup instead of pancake syrup, reduce the water slightly (1 or 2 tablespoons) to account for a thinner syrup.