Some may call me a wee bit obsessive when it comes to "advanced meal planning" for the days after Barney Kneeknuckles' arrival.
I assure you… I am not obsessed.  In all honesty, I'm really just terrified.
I know what I'm like when sleep deprived and coming off of pregnancy hormones — it's not pretty.  And this time, I will have three kidlets to handle instead of two:
One of whom is starting Preschool 4 days after my c-section;
One of whom is a two year old boy ('nuff said);
One of whom will probably have his/her days and nights mixed up and want to use me as a 24-hour dairy bar.
THREE.  KIDLETS.
All year, since the discovery that there would BE a "Numero Three," I have tried out various freezer meals in anticipation of making up a BUNCH of meals for the first two weeks after Barney's birth.
This weekend… I finalized my meal plan and assembled and froze the majority of the meals.
(and, now, I'm exhausted — but that's beside the point)
What kind of meals did I choose for after the birth?  Easy meals — crock-pot meals and meals where a main component could be prepared (and frozen) NOW.  For the most part, every meal will require a mere thaw and dump in the slow cooker … or a thaw and then a trip off to the grill.
EASY MEALS here, folks.
For some of those meals (like tostadas and sloppy joes), I made it even simpler by batch cooking ground turkey.  Several pounds of browned meat now sit in my freezer — ready to complete a quick meal.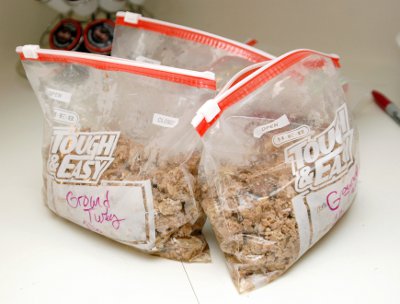 Ready to see our post-birth meal plan?  Below is the list (and links) for what we'll be eating those 2-3 weeks after Barney Kneeknuckles arrival.  At this point, every crock-pot meal, grill meal, and protein is assembled/cooked and waiting in my freezer.    Between now and my c-section date, I will be gathering the other components (vegetables, breads and rolls, sides, etc.) and freezing them as well.
Just trying to make it easy on myself!
The Post-Baby Meal List
Pizza (pepperoni/mushroom) – dough already prepped and frozen
Pasta/Bolognese Sauce (pasta sauce is made and frozen), add Italian Sausage or pre-cooked Homemade Meatballs, and serve with salad/green beans
Grilled Bleu Cheese Burgers (burgers have been assembled and flash-frozen), buns, roasted potatoes
Crock-pot Greek Chicken (ready to go in the freezer), served over egg noodles with salad
Grilled Sweet and Sour Kebabs (assembled and frozen), jasmine rice
Sloppy Joes (using precooked/frozen meat), buns roasted red potatoes
Tostadas (using precooked/frozen meat), salad
Tacos (using precooked/frozen meat), refried beans/Spanish rice
Crock-Pot Roasted Chicken and veggies
Grilled Marinated Chicken Breasts, vegetables/salad
"Brinner"– waffles and bacon
Whew!  Now, someone . . . anyone . . . please reassure me!  Three kidlets is gonna be a piece of cake, right? ? ? ? ?
For more freezer meal ideas, visit Once a Month Mom and Good, Cheap Eats. For menu planning tips and ideas, visit Org Junkie.