After a busy summer, my husband and I decided that I would take a break from blog "work."  No more campaigns and crazy writing schedules.  My blog would return to being simply about our random days: the Little Lady's unfortunate mispronunciations,  Mr. Boy's penchant for toilet water and Hubby's own missteps with the bathroom.
(ok, he didn't agree to that last one, but how can I give up the chance to blog about him and his bad-hubby moves?)
Then two opportunities came my way and I didn't want to pass either up.  The reason?  Both opportunities focus on issues important to our family.  One was the idea of committing one's self to a healthy lifestyle.  The other encourages families to (a) give back to their communities and (b) gather (as a family) at the dinner table.
The first part of Libby's Back to the Table initiative is affiliated with Feeding America, where Libby's and Feeding America have partnered for a virtual food drive.  Through this virtual charity, you can create your own food drive and raise money to help feed America's children OR you can support another person's virtual food drive by donating. 
Here's the link to my virtual food drive if you'd like to help me with my donation goal — every little bit helps!!  In fact, a mere $5 will feed 35 families.  THIRTY-FIVE!  In addition, Libby's will match every dollar donated, making it possible for even more families to receive food assistance.
Yesterday, I joined three other Houston blogger, author and creator of Total Mom, Hannah Keeley, and representatives from Libby's Food for lunch in Northwest Houston.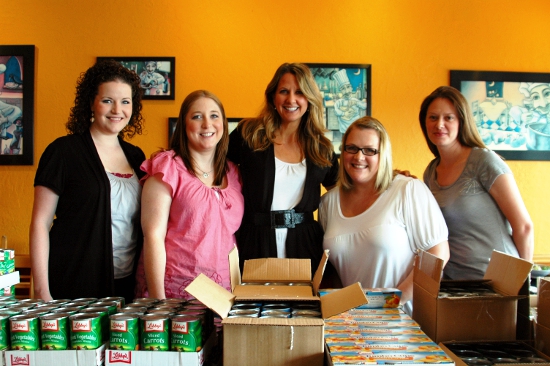 (L-R: Moi, Jamie, Hannah, Shannon, and Crystal)
The agenda?  Brainstorm tips for helping families get "back to the table" AND create Family Dinner Gift Bags for distribution at the Houston Charity Agency.
For two hours we chatted about our picky eaters and our kiddos with bottomless pits for stomachs.  We laughed about the husbands who try to show love by cooking when, really, they should just buy us chocolate and roses and be done.  We filled nearly fifty bags with food  . . . and items created by us (yep, by us) for the purpose of encouraging local families to be intentional about sharing meals together.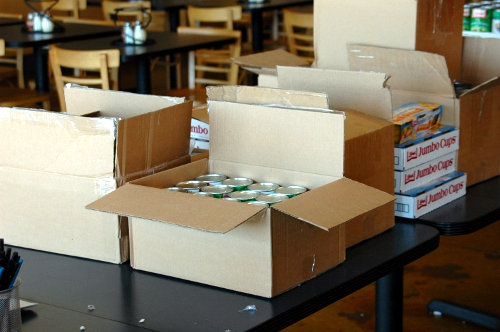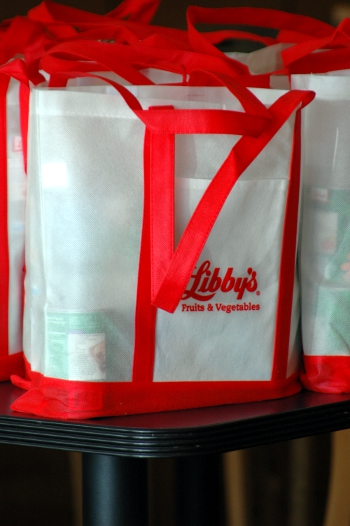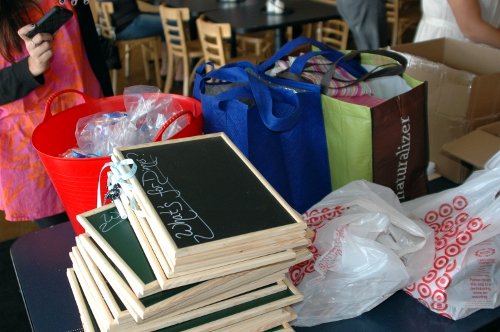 Jamie made adorable aprons; Shannon provided grocery planning lists; Crystal created cute little bags with ramekins and pot-pie recipe cards . . .and me?  I spent hours burning my fingers with a hot glue gun to create Dinner Menu Boards.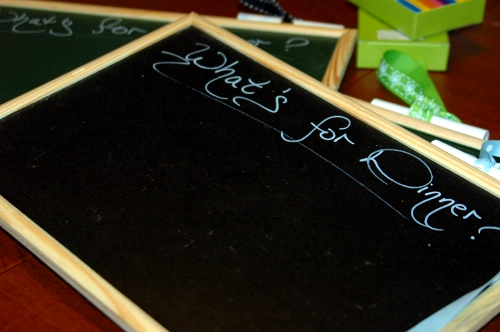 So . . . what did we learn as we chatted about getting our families to the table?
Meal planning is key!  When you spend time, each week or month, intentionally planning what your family will eat, it makes it easier to ensure your family eats together.
Any meal together counts!  If breakfast is the time when every family member can sit together at the table, let that be your family's meal.
If you can only come together as a family once or twice a week, then make sure those meals are "special" and an enjoyable time for everyone.
Allow your family members to "be themselves" at the table — let your kids have fun and enjoy their time with you and the rest of the family.  Who wants a stressful meal?  Let mealtime be something everyone looks forward to because of the family fellowship.
As a way to extend the conversation and to encourage others to bring their families back to the table, Libby's is letting me offer a giveaway for anyone . . . not "just" my Houston crowd.
Giveaway items include:
One of those adorable reusable Libby's grocery totes
Libby's product
A "state of the art" can-opener
A copy of Hannah Keeley's book, Total Mom Makeover
To Enter:
The required entry question for this giveaway is simple —
What is one tip you have for helping mom's get their families back to the table?
Leave your answer in my comment section.  That's it! Easy-peasy, right?
For bonus entries, you may complete any of the following options — please make sure to leave a comment for each bonus entry.
Tweet about this giveaway and the Back to the Table initiative (5 bonus entries) — max of 1 tweet per day
Join #libbysgiving & @Rachel_L : Get Families Back to the Table & win a prize pack including book, Total Mom Makeover.  http://bit.ly/bPzjkU
Giveaway ends at midnight, Oct. 1, 2010. Winner will be notified by email and must confirm their win w/in 48 hours of the email being sent; the prize pack will be sent via mail – please allow 6-8 weeks for delivery.
Disclosure: in exchange for my participation in this charitable campaign, I was given product and compensation.