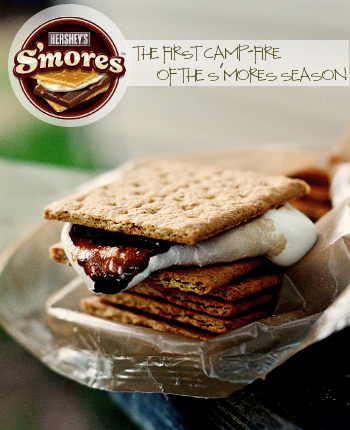 I'm gonna be honest — I'm diggin' summer-time.  No more rushing around in the morning, no more daily hunts for missing shoes, no more scrambling to get everyone buckled only to hear "I need to go potty!".
Yeah — I'm not missing our school days.  Not. one. bit.
Granted, we're only about a week into the summer months of vacation but, still, I'm thinking this summer business is a good thing, even from a mommy's perspective!
(we'll see if that sentiment holds up as the summer wanes)
We've been updating our Summer-Fun list and crossing things off nearly as fast as we write them down (or as fast as the kidlets can draw stick-figures that are "supposed" to tell me what they want to do.  No one told me I was going to need a degree in hieroglyphics to be a mommy!).  One thing we have done several times over the past few weeks is build a camp-fire, roast marshmallows and enjoy S'mores.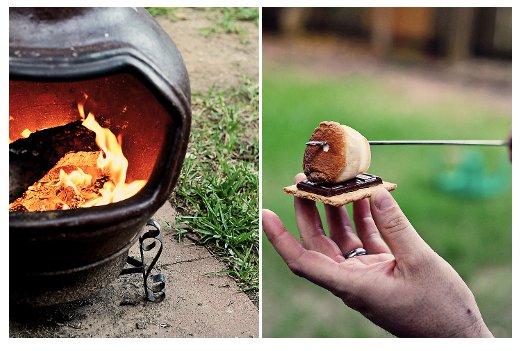 The Kidlets rarely get sugary treats but I make an exception for our S'mores nights.  For my family back in Oklahoma, backyard camp-fires have always been a favorite family memory for all of us. . . and have always invoked more than one or two S'mores eating contests between me, my sisters and my oldest nephew.
(ahem … we won't discuss who may or may not have won her fair-share of those contests)
The FIRST CAMP-FIRE OF THE S'MORES SEASON
A few weeks ago, as I've mentioned here and there, we had a few friends over to celebrate the end of the school year.  The normally hot, humid Houston weather cooperated and we parents enjoyed a rare, pleasant evening … cooking hot dogs and watching the Kidlets have an epic Silly-String war, after which they peacefully reconciled and turned their energy onto a bird-house craft.
Good thing I had a "calm 'em down" plan because the silly string business turned into a "take-no prisoners" kind of battle.  Oy.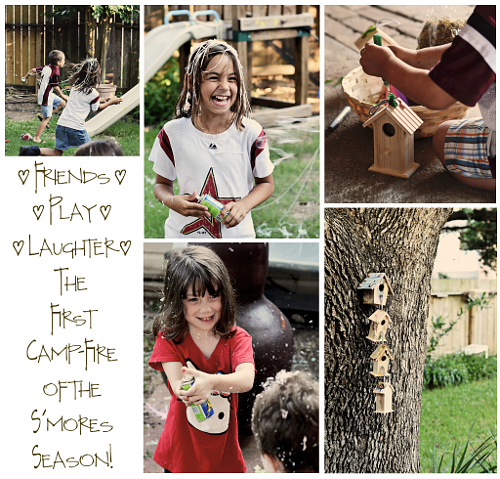 Normally, planning any type of gathering at my home stresses me out — I am most decidedly NOT a party-planner or born hostess.   But, I love creating life-memories for my children, whether it be for summer-time, Christmas or birthdays.  Establishing family traditions has been a huge focus during these early years of mommyhood, so, while planning a party can be stressful, as I brain-stormed this summery little shin-dig, I realized there are a few things that can make any party easy, fun and stress-free.  The perfect summer party.
Tips For Hosting A Fun, Kid-Friendly and Frugal Campfire.
Setting up your camp-fire
Regardless of whether or not you have a fire-pit or chimenea, remember to be prepared for anything (keep water/fire-extinguisher on hand) and study up on these camp-fire safety tips.
If you have little ones in attendance, please ensure you take the time to set clear boundaries with the regarding any heat source (camp-fire, grill, etc).  Fire can be fun but also dangerous if not handled with respect.
Kids can, however, still be involved.  We gave the Kidlet guests the task of gathering sticks, twigs, pine cones and pine needles to use as kindling.  Each child charged forward with the important task, knowing we "just couldn't" have a camp-fire without their help.
If your guest list includes children of a wide-variety of ages, consider having "fun for all" types of activities, games or crafts ready to go.  Water guns, silly string and nature/summer inspired craft projects are accessible for all ages and will ensure everyone has fun!
At our party, the Kidlets were 9, 5, 4, 3, 2, and 9 months.  While the little ones could have played together easily, I didn't want the older child to feel left out or bored.  Picking "univerally fun" activities gave her something to do without her feeling like she was "playing baby games."
You don't have to break the bank! 
All of our craft supplies, water guns, and silly string came from a dollar store; Target, with it's "Dollar Spot", is also prime frugal hunting ground for summer party and craft supplies.  I found everything I needed for under $20.
Dollar Stores are also a great resource for disposable (and cheap) paper plates, cups, cutlery, and napkins.  And, you won't be stuck with boring white!  We color-coordinated with our camp-fire and used red and yellow paper goods.
Anticipate and be ok with "a mess." 
Don't worry yourself or your guests with trying to keep kids from spilling or breaking anything.  Bring everything (food, drinks, chairs) outdoors to keep sticky and spill-prone little fingers out of your house.
Don't have enough outdoor seating?  Ask guests to bring their favorite lawn-chair!
Keep the food delicious but simple.
As the host/hostess, you should be able to enjoy your guests and the FIRST CAMPFIRE OF THE S'MORES SEASON.  Pick easy-to-prepare recipes or make it a "potluck" and ask your guests to contribute toward the meal, snacks or drinks.
Don't forget the S'Mores! 
The simple flavors of Hershey's milk chocolate, toasted marshmallows and crisp graham crackers are the best dessert at the end of a summer day.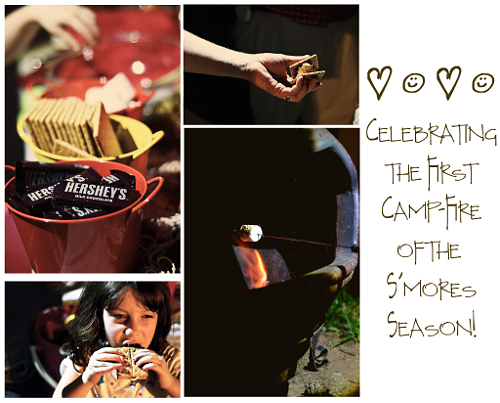 If you want some ideas for your own backyard soiree and camp-fire, check out the Backyard Party Time board I created on Pinterest.  I came across so many good ideas for backyard fun, food and great summer memories!
And, the Hershey's Facebook Page — where they are celebrating Memories, S'mores and Family/Friends all season long — will be featuring different family-friendly ideas each week.  AND you can join their "virtual summer camp, Camp Bondfire," for the weekly chance to win an outdoor fire-pit!
Are you planning any camp-fires this summer?  Any tips for summer fun?
disclosure: I partnered with The Motherhood and Hershey's to celebrate and promote the FIRST CAMP-FIRE OF THE S'MORES SEASON.  The memories, ideas and opinions shared in this post are entirely my own.  Have fun with your own camp-fires!