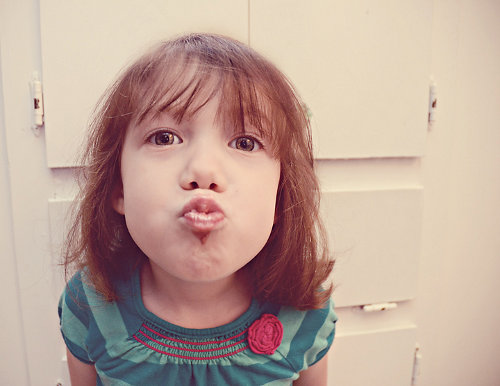 The girl thinks she is sly.
Thinks I'm blind.
Thinks I'm deaf.
Every single day, she is sneaking into something.
Lipstick is always a favorite… as are the off-limits permanent markers.
Oh, and my ink stamps.  She loves those.
Anything with color is believed to be rightfully hers, despite my contrary opinions.
So, she tip-toes into rooms (and by tip-toes I mean "clomps and stomps like a two-ton elephant on creaky wooden floors") and creeps into drawers (and by creeps I mean "talks to herself while whirling open doors and drawers and then slamming them shut"), wholeheartedly believing Mommy is oblivious to her transgressions.
Then she parades out to the living room as if nothing happened… despite the fact I see my new lip-gloss smeared all over her lips and teeth.
And despite the fact she smells like Sporty Old Spice.
Yeah, Daddy's deodorant is fun too.
(so it seems)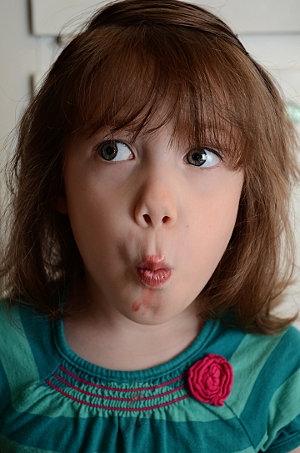 * * * * * * * * * * * * *
The Hobnob Fairy, sponsored by Appliances Online, is another sneaky one, but — unlike the Little Lady– this kind of sneakiness is fun for everyone else!
After seeing a comment I had left on Kim's blog (Shop with Me Mama), the Hobnob Fairy (are fairies always girls?  I'm not that knowledgeable on Hobnob Fairy Lore) stopped by my blog yesterday, drooling over my Pumpkin Bread with Eggnog Cream Cheese Filling and chuckling over my recent Horribly-Mortifying-I-Might-Never-Get-Over-It trip to the store.
Whether this fairy was impressed by my baking skills or so saddened by my pajamas, I'm not sure … either way, the Hobnob Fairy gifted me with a very surprising but very welcomed Amazon gift-card!  And …. s/he (I really need to learn the gender of this fairy) wants to gift one of YOU with an Amazon gift-card too . . . just as a way to spread Holiday cheer.

If you want a visit and a present from the Hobnob Fairy, a comment on this post is all that's required. The Hobnob Fairy will browse through the comments and then pick someone to visit!  Have fun!!!!!!!!
Disclosure: I was gifted an Amazon card from the Appliances Online Hobnob Fairy.  All opinions expressed in this post are my own.  I am not conducting a giveaway for the Hobnob Fairy… s/he will be picking and contacting anyone chosen to receive an Amazon giftcard.