There were other plans for today's post.  I was going to share the details about our new chore chart system we started last week — the one I've shared on Facebook.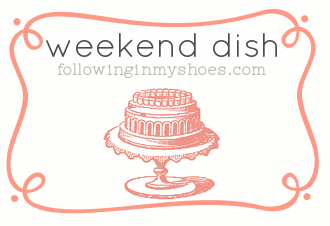 But then, life — full of two year molars and tummy bugs and an out-of-control house — hit me head on.  It's been an insane week and it wrapped up with an even crazier Friday.  Instead of sharing the ins and outs of handling chores with the preschool crowd, I'm going to share other things: Things I Love on Pinterest, Favorite Blog Reads, Stuff I Shared On Facebook, and a few reminders about Things on this Blog.
Happy reading and enjoy your weekend.  May it be Tummy Bug free.
Things I Loved This Week on Pinterest:
FREE Back to School "1st Day" Printables — you can print off these gorgeous chalkboard/hand-lettered style signs (courtesy of Yellow Bliss Road) for those First Day of School photos!
Whole Wheat Blueberry Toaster Pastries — I'm constantly looking for freezer-friendly school breakfast ideas and these Whole Wheat "Pop-Tarts" (from A Kitchen Addiction) seem like they might be a winner. I'm going to try them out Saturday.
My Imaginary Well-Dressed Toddler — do you need a laugh today? Then you MUST CHECK OUT AND FOLLOW FOREVER this Pinterest board. It's beyond awesome. And you will never look at Quinoa the same way.
Designing the Perfect Wardrobe — I seem to be pinning outfits non-stop. Since it's been awhile since I've worked outside the home, my professional attire is somewhat lacking.  Gotta fix that before the first day of school!
Favorite Blog Reads
50 Meal-Worthy Vegetarian Salads — each time Kiersten (from Oh My Veggies) publishes one of her round-ups, I wonder why I'm not a vegetarian. She finds the BEST recipes. And, since it's hotter than hot these days, her salad round-up is PERFECT.
Thoughts on This Whole Being Knocked Up Business, Vol. 1 — Oh, I adore Beverly from Bev Cooks. She is the most hilarious food blogger I follow and she is currently pregnant with twins. And there's a heart-wrenchingly beautiful story behind her pregnancy that made cry buckets of tears. But her post this week about being a "Pregotron" had me chuckling (like most of her posts do). Go, read it, and reassure her that (of course) George Clooney is the father of her babies.

Stuff I Shared On Facebook
The CuteZCute Bento Cutter — I shared a sneak-peek of this new bento tool and revealed I'll be giving one away later in August!
Bedtime Whack-a-mole — we all had a big ol' long discussion on how to keep Kidlets IN THEIR BEDS after bedtime. Yes, it's a problem here!

From the Blog
Grilled Sirloin with Corn Salsa — my first recipe for this year's H-E-B Meal Maker Challenge. If you are in Texas, you can pin this recipe as part of a $1500 sweepstakes from H-E-B (full details here).
Not from Texas? No problem — pin it anyway! You'll have it as a reference for an easy 30-minute meal AND you'll be helping me as I compete against other bloggers for "Most Repins." Thankyouverymuch.
Lunchbots Trio Stainless Steel Lunch Container — GIVEAWAY that ends 8/13/13.
Momables 3-Month Subscription and $25 Amazon Giftcard — GIVEAWAY that ends 8/15/13.