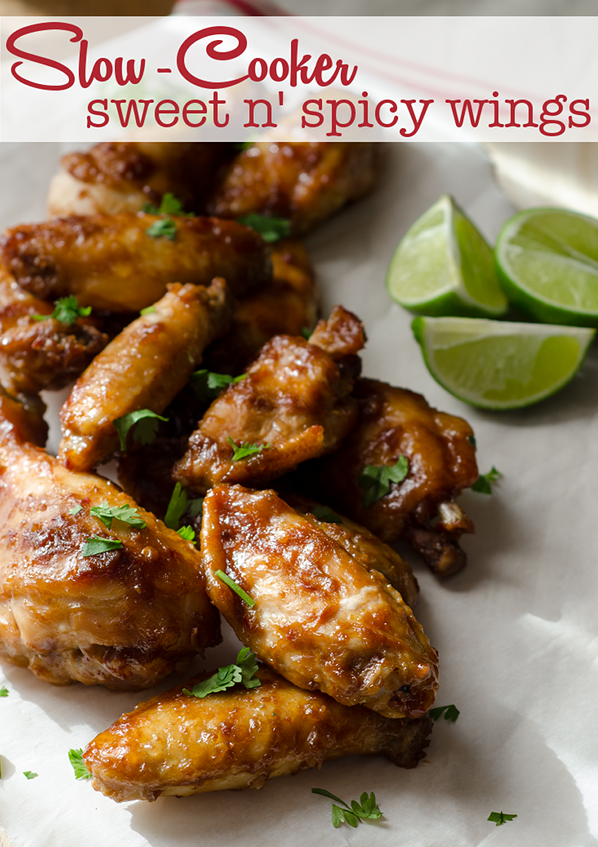 As I write this post, I'm immersed in the Georgia vs. Clemson season opener. It's the first weekend of College Football Season — the Husband's favorite time of year.
And, as is often the case around here, he is sitting beside me, snoring, while the most exciting game of the weekend draws to a close.
Living in a college town — and one that gets a LOT of attention thanks to a certain Heisman winner who likes to do silly things while the media watches (sigh) — we LOVE our game-day weekends. There's a buzz that begins stirring on Friday mornings. Everyone is wearing their Maroon .. everyone is driving into town, crashing every hotel and house available … and everyone is making tail-gating plans OR getting ready for an "in-home" tail-gate with friends.
Regardless if you are an Aggie at the game or an Aggie watching from the air-conditioned comfort of your living room, food is on your mind.

We're also a town that loves us some Wings. I've lost count how many wing establishments there are in College Station, but off the top of my head, I can think of at least seven. SEVEN RESTAURANTS THAT HAVE WINGS AS THE MAIN ITEM ON THEIR MENU.
That's what living in a Texas college town is like.
But — and I hope my fellow Aggies won't disown me over this — I'm not a fan of traditional wings. It's the vinegary sauce … it's so over-powering. I just can't do it.
These Sweet n' Spicy Slow Cooker Wings, however, are NOT traditional wings. There isn't any plain vinegar anywhere to be found … they are basted with a peanut-butter based sauce … AND they are prepared in the slow-cooker.
Yup, the slow-cooker.
The end result? Wings that this Mama loves. Wings that her Aggie-husband loves. Wings that the pickiest of picky eaters, Mr. Boy, loves.

The clip (
above
) was from my most recent time of making these Sweet 'n Spicy Slow Cooker Wings for the family, and just like with previous meals, Mr. Boy DEVOURED these wings. It shocks me each and every time — the boy refuses to eat nearly every meat (
aside from Hot Dogs
) but he LOVES these wings!
I think it's because the ingredients — as they cook down in the slow-cooker — transform into the most AMAZING spicy barbecue sauce EVER.
Ever, people. Ever.
Don't let the peanut butter scare you — it melds beautifully into the sauce and doesn't scream PEANUT BUTTER as you eat the wings. It's just turns into something sweet, a wee bit earthy and nutty, and then the Sambal Oleck gives it a kick that balances everything out into perfection.
You can serve them immediately after they finish cooking but I like to throw them under the broiler for a couple of minutes to crisp the skin.
'Cause I'm crazy like that.

Sweet n' Spicy Slow Cooker Chicken Wings
Ingredients
¼-1/2 c packed Brown Sugar
¼ c Soy Sauce
½ c Peter Pan Creamy Natural Peanut Butter
2 crushed garlic cloves
1-2 tablespoons Sambal Oleck
2-4 pounds prepared chicken wings (regular or drumette-style)
Cooking Spray
Optional
Instructions
In a small bowl, mix ¼ cup of brown sugar with the soy sauce, peanut butter, crushed garlic cloves and 1 tablespoon of the Sambal Oleck. Taste and adjust the sugar and Sambal if it needs to be sweeter or spicier. It will form a thick paste.
Spray the interior of a 6-quart slow cooker with cooking spray. Add the chicken wings.
Add the seasoned peanut butter paste into the slow cooker, turning the chicken wings to thoroughly coat each one.
Cover and set the slow cooker on low, cooking the wings for 2-4 hours or until a meat thermometer registers 165 degrees when inserted into the thickest part of the meat.
Remove wings from slow cooker and place on a foil lined cookie sheet. Place under your oven's broiler for 3-5 minute or until the skin is crisp.
Serve immediately. If desired (and to kick up the Thai influences in this dish), you can serve with chopped, fresh cilantro and a squeeze of lime juice.

If you haven't figured it out, Peter Pan Peanut Butter is the final featured ingredient in the 2013 H-E-B Meal Maker Challenge! This week, you can get free grape jelly when you purchase the peanut butter … so, you can "kill two birds with one stone" this week. Buy the peanut butter, make these wings, and use the remaining peanut butter for school lunches.
Win-win, people!
P.S. HELP A GIRL OUT … AND (MAYBE) WIN!
If you like the sound of these Sweet 'n Spicy Slow Cooker Wings — my Fifth and FINAL Recipe in the Meal Maker Challenge — you can "vote" for it in this challenge simply by repinning it! Yes, it really is that easy and you don't have to live near an H-E-B to re-pin my recipe!

(you can re-pin by clicking on the pin shown above — that will allow you to pin the official challenge pin)
[exceptional-citing quoted="rachel" template="bubble-gray-round" date="" ]Head over to the
Meal Maker Challenge
page to get all the details on voting for this recipe, to check out all of the Peanut Butter recipes in this week's challenge, and to learn how — if you live in Texas — you can enter to win your share of $1500 in prizes.[/exceptional-citing]
disclosure: I have been compensated for my participation in this Meal Maker Challenge for H-E-B.