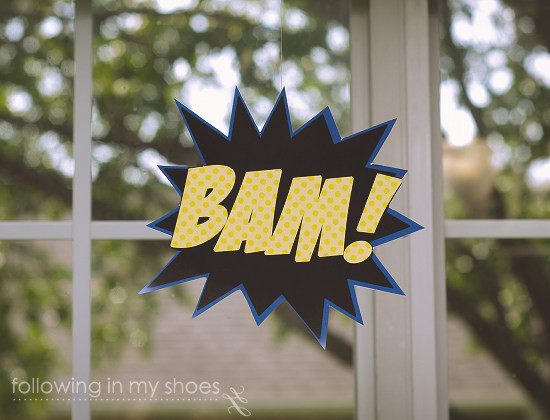 I meant to post this earlier in the week but (yawn) I am tired. Plain and simple. I've been working with my co-teacher all week to get our classroom ready for our students. In the years since I was last in the classroom, I had forgotten how much work goes into bulletin boards, setting up manipulatives, and organizing art supplies.
(not to mention lesson planning!)
BUT … last weekend was Mr. Boy's Superhero Birthday Party.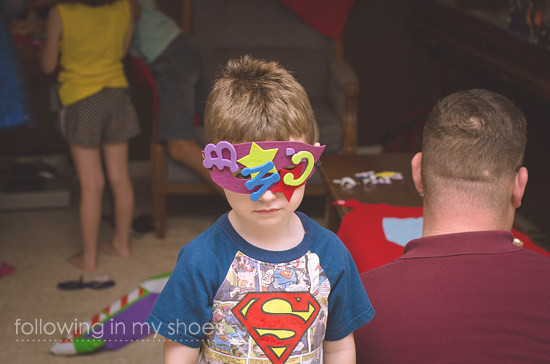 (He was thrilled.  Really.)
We had all of his favorites: masks, capes, bad guys and good guys, a Superhero Training Course, pancake muffins, donuts, and cupcakes!
Yes, you read that correctly — pancake muffins and donuts.  This boy adores breakfast and I knew we HAD to have "morning food" ready for guests if it was a Mr. Boy party.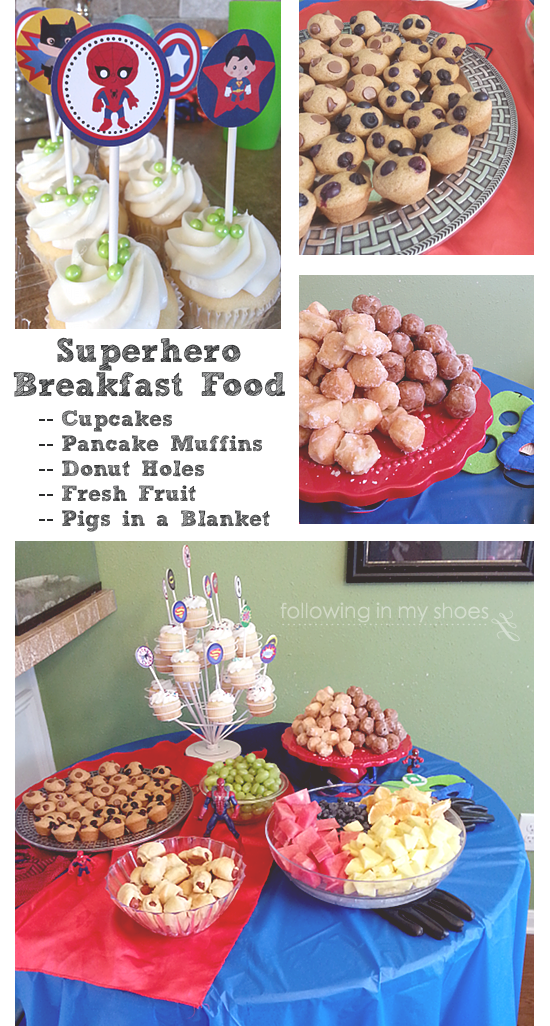 And when it came to things "to do," Pinterest came to the rescue with a 1001 ideas for a cool Superhero Party.
I did about ten of them.
The ten most AWESOME!!!!!!
Decorate Your Own Capes & Masks
I had intended to make the masks but then I found pre-made ones at Hobby Lobby for just a couple of dollars. For a few pennies more than the cost of buying the supplies separately, I had everything ready to go and saved a bunch of time. Score!!!
The capes, however, I made with a couple of yards of felt and about two glue sticks. SO simple.
The kids added felt stickers to personalize each one.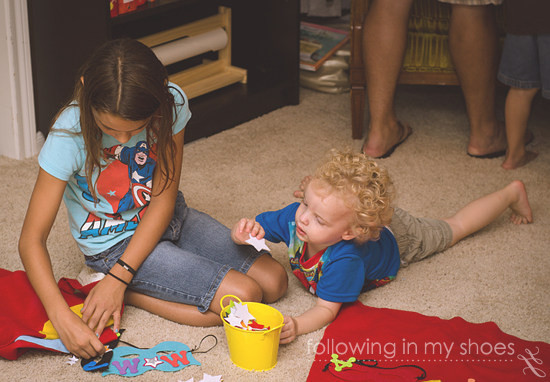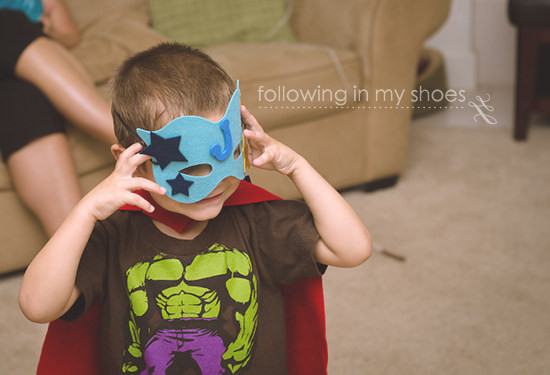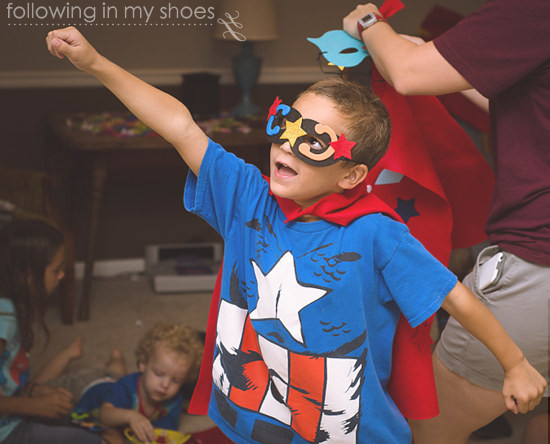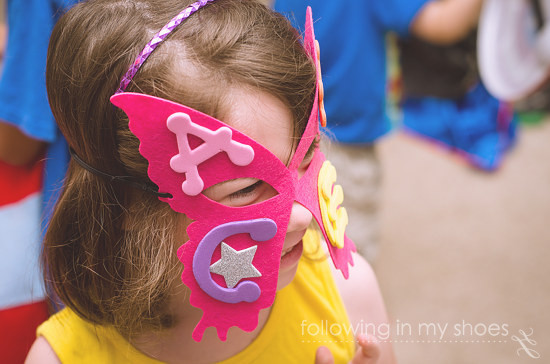 Superhero Training Course
For a little structured party games, we set up six different obstacles as part of a Superhero Training Course, where the kids used gross motor skills Superhero Strengths to complete each activity.
When I first began planning, I had intended for the kids to wear their capes and masks while completing the course.  But I had forgotten that we live in Texas. . . and the Mr. Boy was born in August …. and that Texas + August = BLAZING HOT EVEN AT 10 AM IN THE MORNING!!!!!!
Poor things, it was hot and so only one little boy bravely endured his cape as he went through the course.
Station One: Don't Fall Off The Tall Building — A Balance Beam fashioned from railroad ties we had on hand.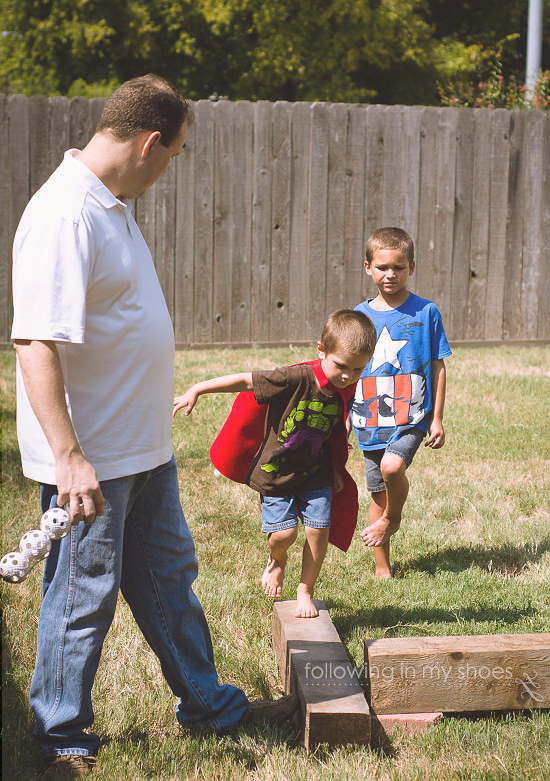 Station Two: Getting Out of Tight Spaces — a Tunnel (something I've had for YEARS in my garage)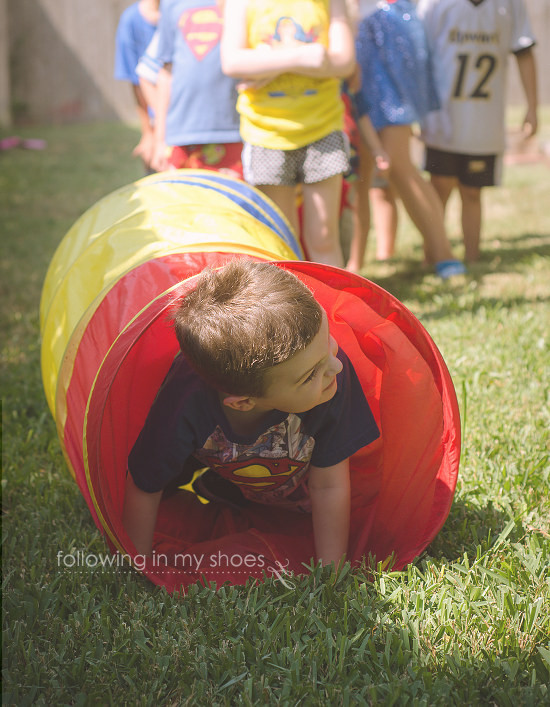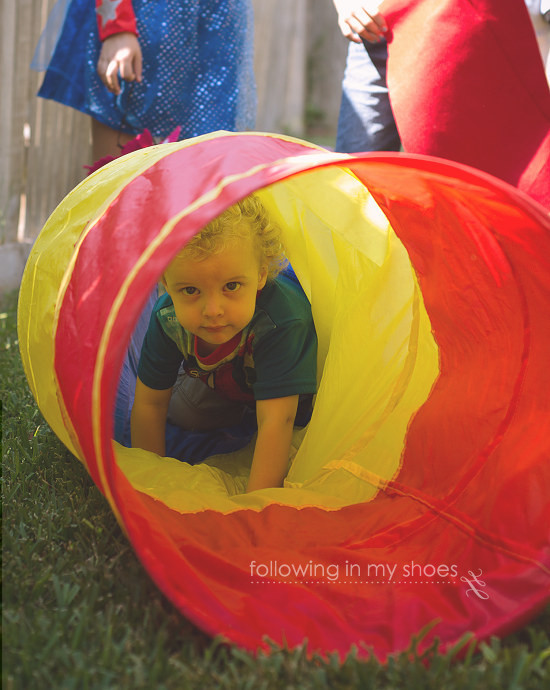 Station Three: "Faster than a Speeding Bullet" Feet — the kids had the option to hop or run from hula hoop to hula hoop as fast as they could (I found the hoops at a dollar store)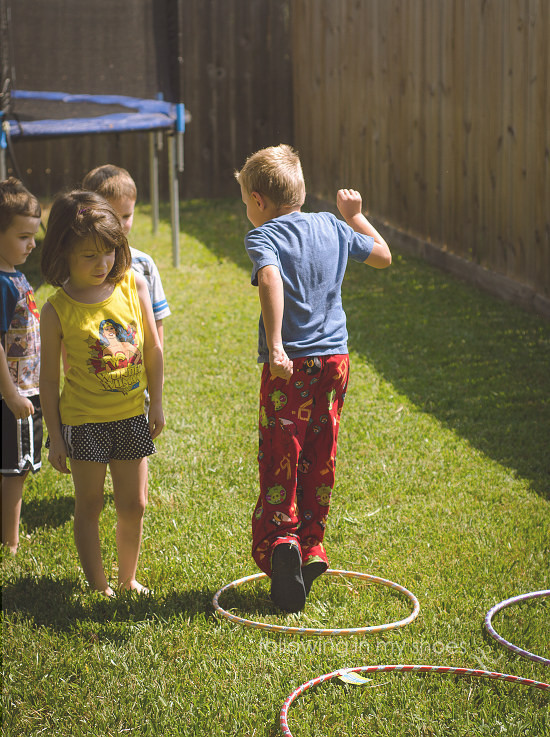 Station Four:  Jump "Higher Than The Tallest Building" — we utilized our trampoline where the kids had five attempts to jump their highest jumps ever.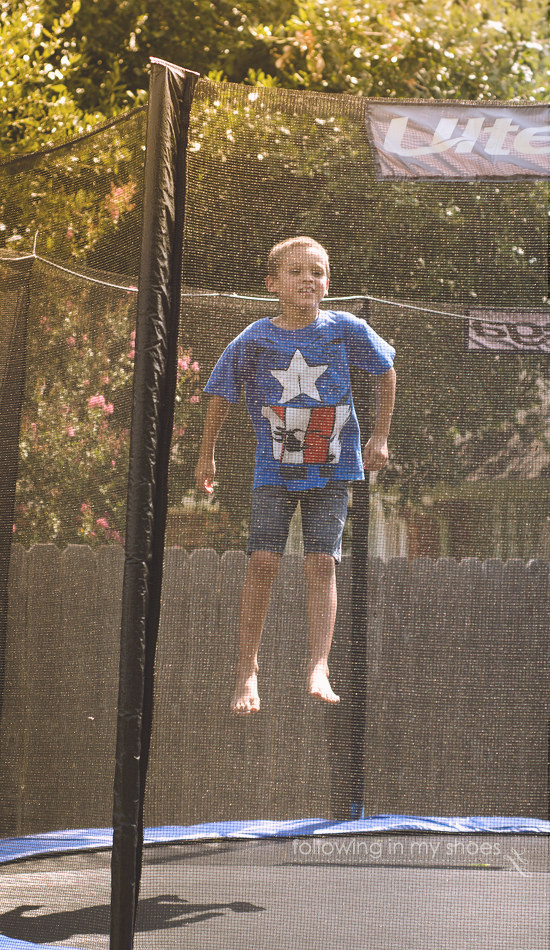 Station Five: Don't Touch the Kryptonite!!! — I used sparkly florist styrofoam (again from a dollar store in town) and scattered the pieces across a section of the yard.  The kids worked in tandem to get "their" piece safely into the Kryptonite Containment Unit (a dollar store bucket).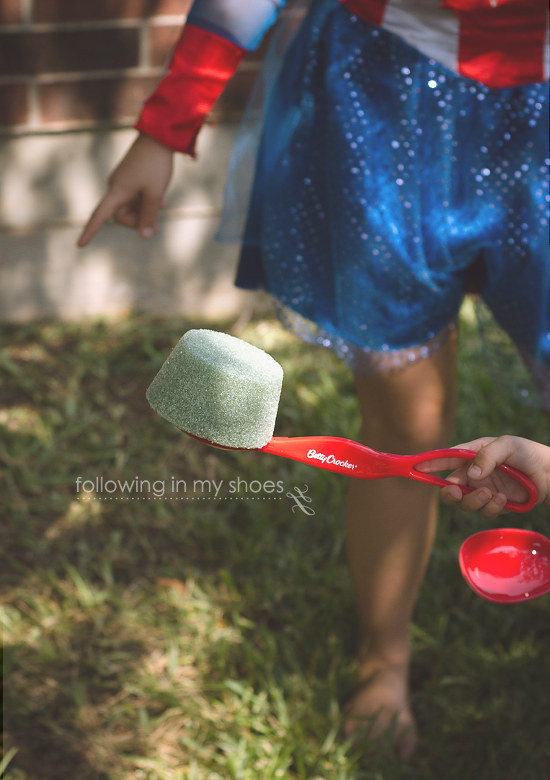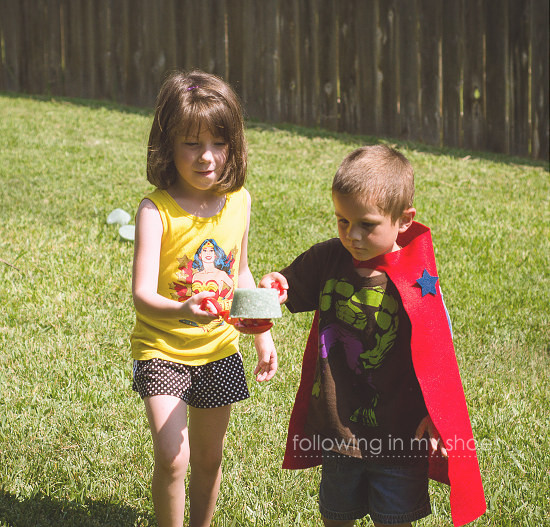 Station Six: Superheroes Never Have Collateral Damage ….. and, um, I COMPLETELY FORGOT to have the kids complete the final station.  And it just happened to be the one station all of the Little Boys were MOST excited about.  I had used doll stands to prop one "Bad Guy" (a figurine of some villain that came with a Spiderman toy set of Mr. Boy's) in between two dolls … one Tinkerbell and one Barbie Doll.  Using a wiffle ball, the kids were supposed to knock the Bad Guy down without also knocking down an innocent (doll) bystander.  The Little Boys in attendance had asked about that game since they first went outside … and I was so excited for the NEXT thing that happened that I completely forgot about the game.  Sigh…
Capture The Villains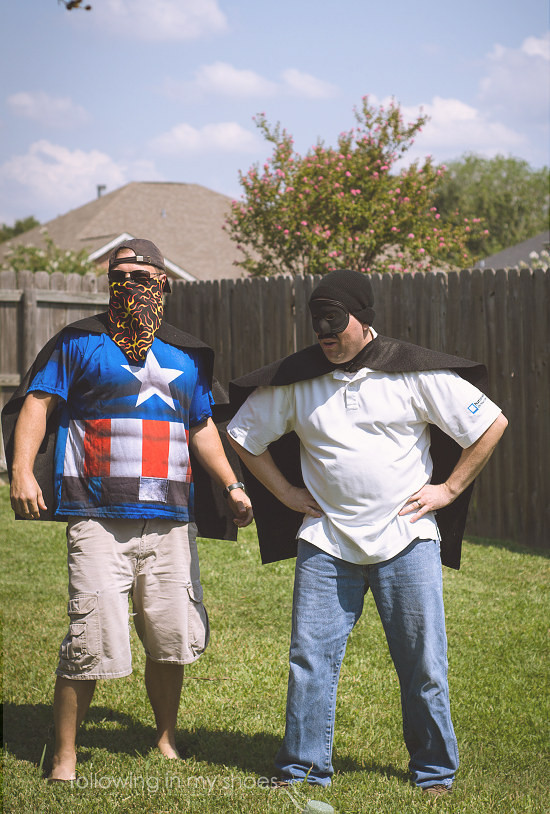 This was the ONE AND ONLY THING Mr. Boy wanted for his party: Capture the Villains.  One night as we sat around my laptop, searching Pinterest for party ideas, he and I saw a picture of three parents, wrapped in streamers and unable to move.  My gleeful child thought that was the FUNNIEST scenario ever and begged for me to find a way to incorporate it into his Superhero Birthday Party.
About two days before the party, I finally figured it out and, so, after the Kids completed their Superhero Training Course … right as they were about to finally have the chance to enjoy their reward (a Piñata full of treats), two masked and caped bandits tore through our (open) gate and announced that THEY were here to STEAL THE PINATA!!!!!
Instantly, the Superheroes responded… and violently so.  It wasn't long before they had the Villains on the ground, crying for Mercy.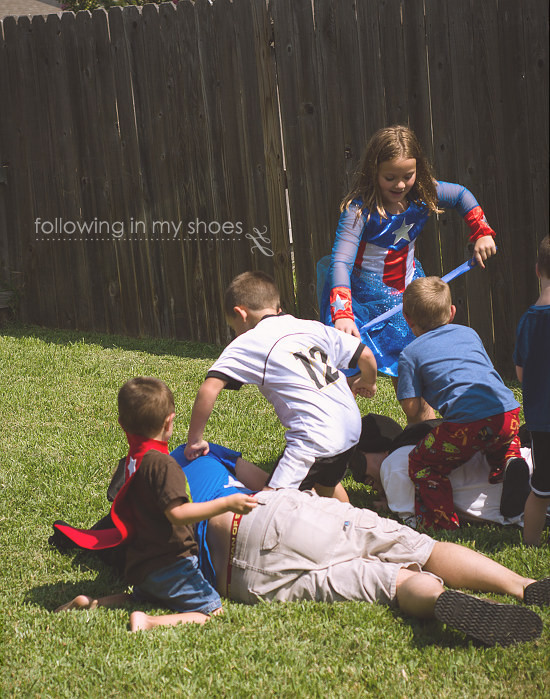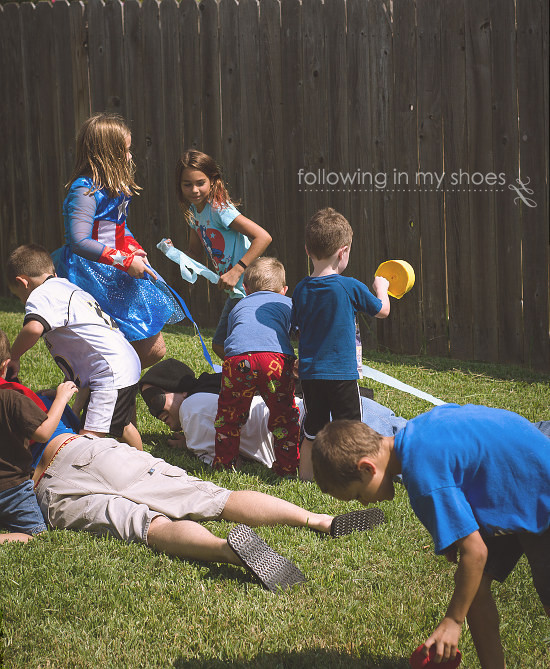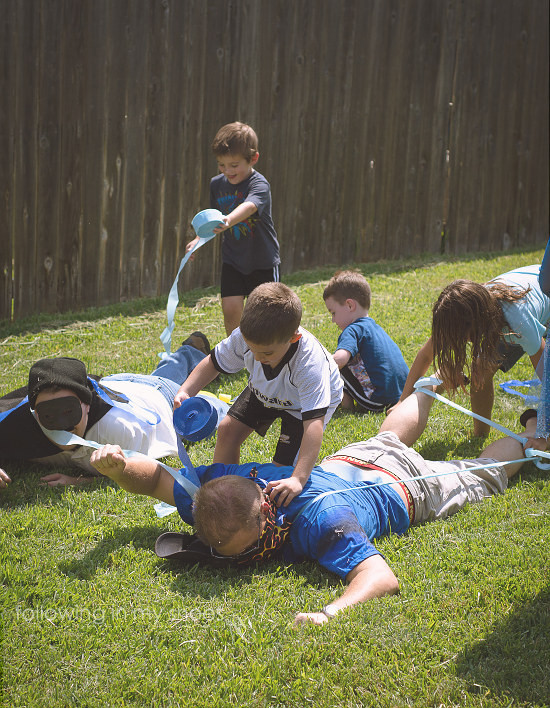 Pinata Time for All!
While the majority of our Superhero Crowd was busy taking down the Villains, the Little Lady was on the fringe … and as a result, she was there to rescue the forgotten Pinata as the kids squealed and hollered at the Bad Guys.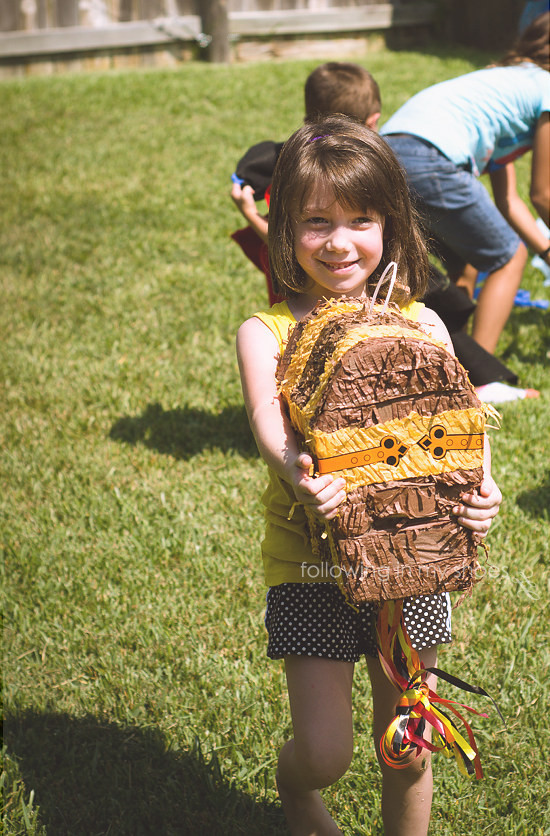 After that, it was time to whack the Pinata in hopes of obtaining one (or two…. or ten … or fifty) pieces of candy!!!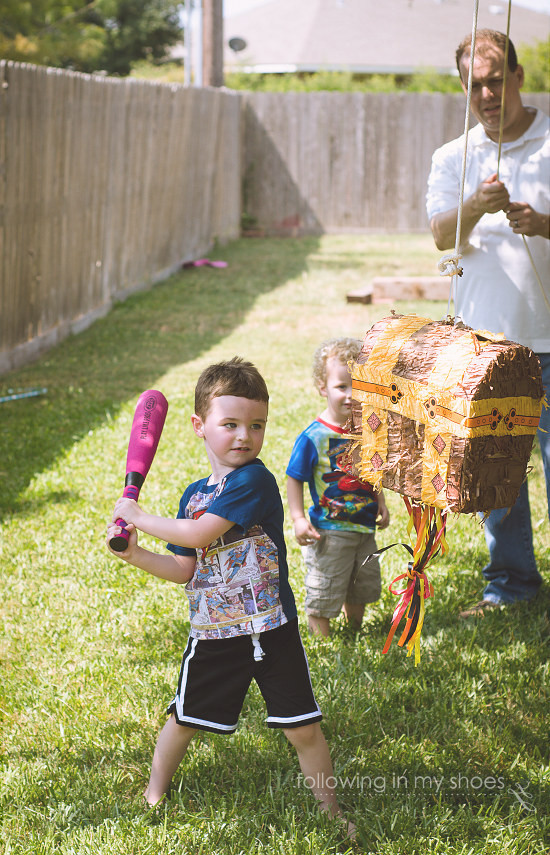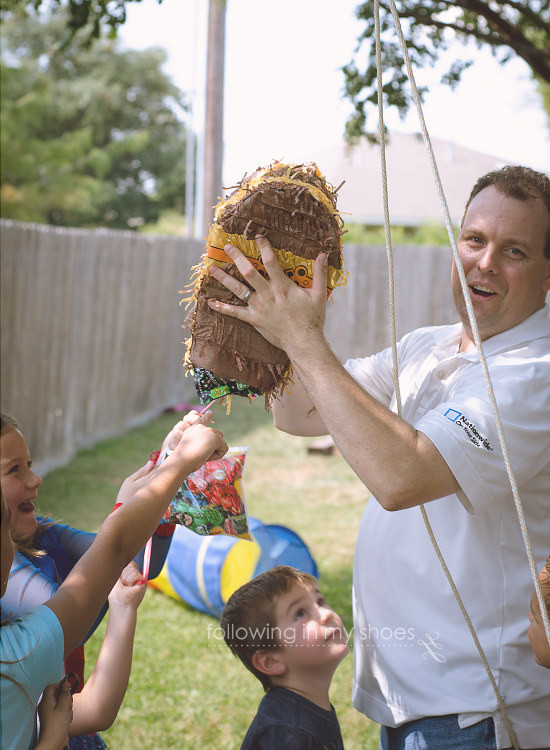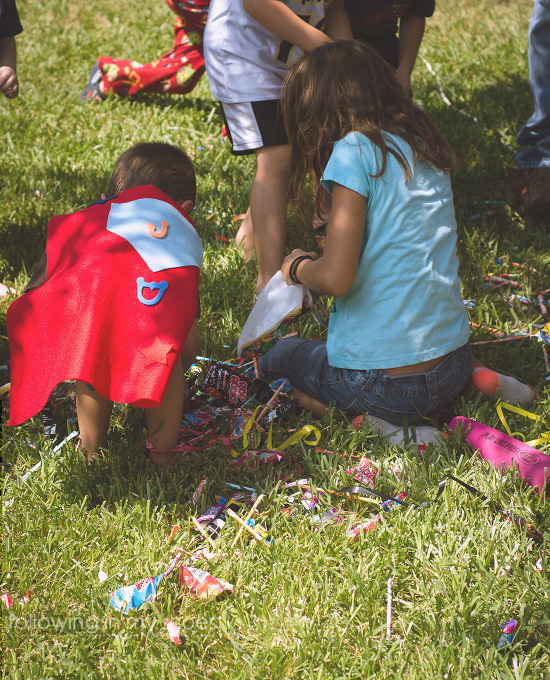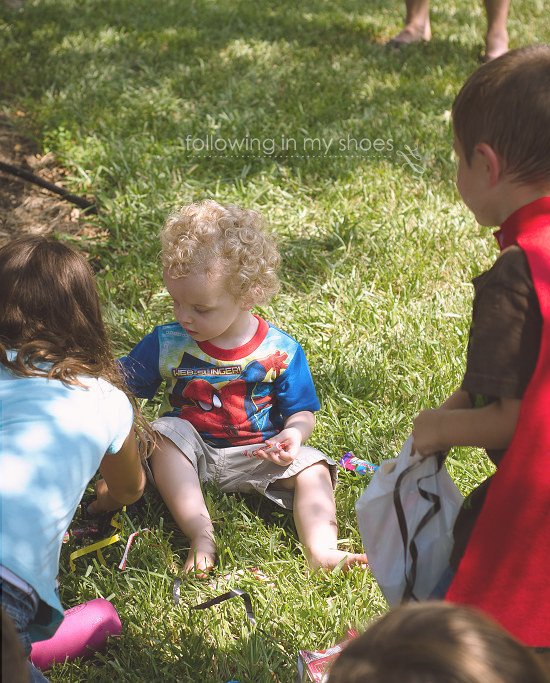 Of all the parties our family has celebrated — from a Circus Party to a Wizard of Oz Party to the Little Lady's recent Tea Party Birthday — Mr. Boy's Superhero Party was far and away the most fun (for kids and adults alike).
Especially for the Daddies … who raided the piñata discards after the children were finished filling their goody bags.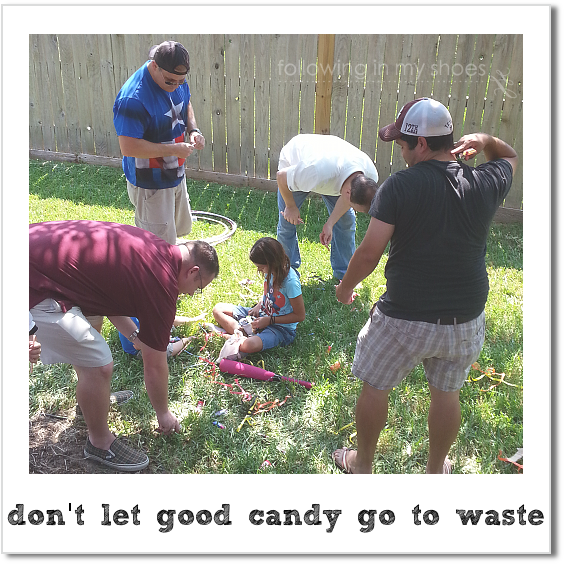 Resources: