Sooooo.
Anyone else noticed it is a little HOT this summer?  It's not just me, right?
I am, most decidedly, not a fan of "hot."  Even when not pregnant, I do everything humanly possible to avoid raising my body temperature.  Summer-time isn't my best friend.
(Which is why is is incredibly ironic that, for the second time, I'm pregnant during the summer.  Waiting to deliver an August baby.  And, not patiently, I might add.)
I've turned into a huge fan of all things "iced."  Hockey games at our mall (soooo cool in that area), ice packs ('cause a 76 degree house is NOT cold enough), and … now that the baby I'm growing has decided to let me once again consume coffee . . . iced coffee.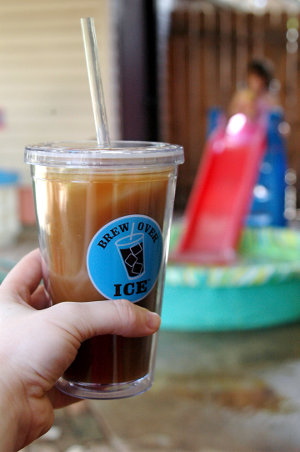 Keurig recently started making it easy for me to have iced coffee at home, thanks to their Brew Over Ice K-Cups.  There are two different varieties courtesy of Green Mountain Coffee Iced Coffees.
Or. . . I could have iced tea, 'cause Keurig now offers eight different Celestial Seasonings Perfect Iced Teas.
(I tried two of the tea blends, but, when this Southern Girl wants tea, she makes a BIG ol' pitcher of Sweet Tea … one little K-cup isn't enough for me!  But, for someone who doesn't drink tea on a daily basis, the K-Cup would be the perfect way to have the occassional glass of ice-cold tea.)
I'm a fan of the Iced Coffee — particularly the Nantucket Blend Iced Coffee.  It's an unsweetened coffee that has the perfect bold flavor without being toooooo strong.
The other iced coffee option is the French Vanilla Iced Coffee.  Um, yeah — I'll be honest: not a fan.  But, I don't enjoy anything with a "french vanilla" flavor or smell, so my opinion is a little biased on that particular new K-Cup.
The Nantucket Blend is perfect for me though — especially with a little Turbinado Sugar and Almond milk.
(Sigh – so good.)
Using your Keurig machine to make an iced coffee (or tea, if you prefer) is simple.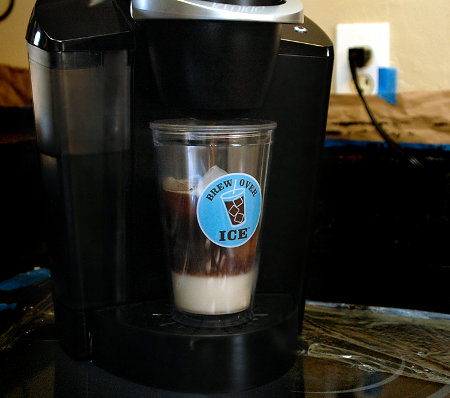 Pop the K-Cup in as you do for your hot coffee drinks.
IF YOU LIKE SWEETENED COFFEE: add your sweetener/creamer of choice into a 16-oz plastic cup.  (the official Keurig Iced Coffee instructions don't have you do this at this point, but I found the sweetener/creamer blended better with the coffee when it was pouring hot from the machine — as opposed to later, after the coffee had cooled thanks to the ice)
Fill a 16-oz cup with ice and put it under the brewer.
Choose the smallest serving size your Keurig offers (6-oz, 8-oz, etc).
Let the Keurig brew and dispense your coffee directly into your cup, over the ice/sweetener/creamer.
Stir and your iced coffee is ready to go!
You can purchase the new Keurig Iced Coffeee or Iced Tea K-Cups online (www.GreenMountainCoffee.com OR www.Keurig.com), but they are also available in various stores nationwide.
(FYI: I saw them at Lowe's this past week!)
Disclosure: I was provided four different iced drinks to try in exchange for my review: Nantucket Blend Iced Coffee, French Vanilla Iced Coffee, Southern Sweet Tea, and Sweet Raspberry Black Tea.  As seen in my post, the Nantucket was my favorite.  Or, the baby's favorite.  Either way, this Mama REALLY liked that one.  All opinions expressed in this post are mine alone.  No other compensation was given for my honest review.