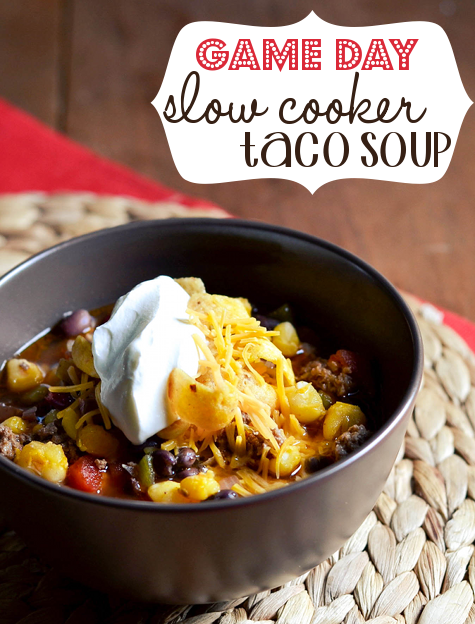 This past weekend, our temperatures here in College Station, Texas dropped, teasing all of us with fall-like temperatures . . . perfect for game-day.  As has become custom now that we are living in "Aggieland" (home of the Fightin' Texas A&M Aggies, for you non-Texans), the Husband's brother, his wife, and their sweet baby came over to watch our Ags play a little ball.
(well, the Husband and his brother watched … and screamed … and groaned … and whooped … and kissed the wives whenever a touchdown was made)
Every Saturday afternoon, this is our life . . . and every Saturday morning, I'm scrambling to decide what to prepare for everyone to eat.  I'm not picky — I just want fuss-free, easy food that requires little effort from me.  After all, I have to babysit the "Boys" to make sure they don't throw something when a ref makes a bad call.
It could happen.
This Slow-Cooker Taco Soup has been my favorite soup for years.  It isn't a new recipe and probably every cook has a variation in her back pocket.  I first came across it in an old, old Church cookbook my grandmother gave me.  There it was, in type-writer font: "Taco Soup."  Simple.  Understated.  Delicious.
It's hearty and spicy.  Perfect with a dollop of sour cream a sprinkling of shredded sharp cheddar . . . and amazing with cornbread or corn-chips.  Yes, corn-chips . . . a little childhood indulgence for game-day.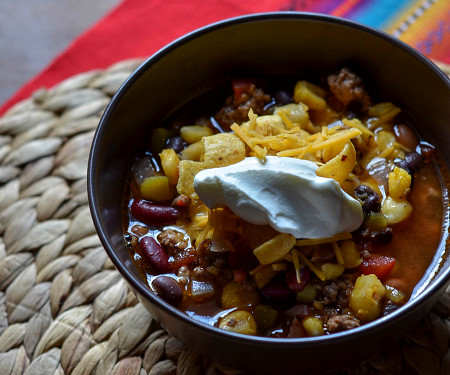 Even the babies, 13-month old Barney Kneeknuckles and his 11-month old cousin, scarffed this soup down, crawling and toddling over to anyone that had a steaming bowl of it in their hands.  They squealed and screamed for bites, demanding more than their fair share of hominy, beans, and deliciousness.
It's the perfect, crowd pleasing recipe … regardless if you root for the Aggies or not.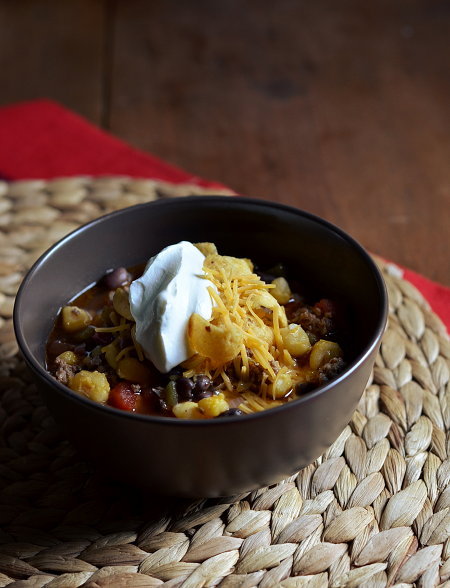 linked with Delicious Dish Tuesday