I. Am. Tired.
I've been staying up wayyy too late and, as a result, waking up wayyy too late.  The result?  Bentos have been pretty simple around here.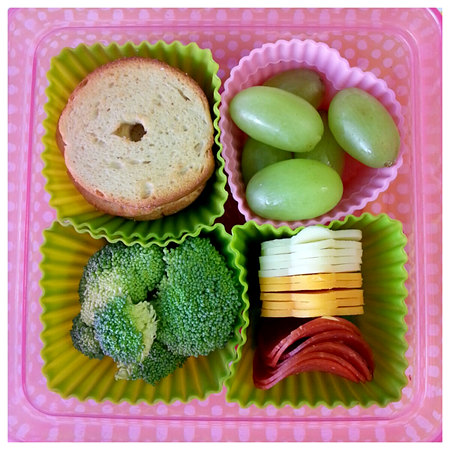 (My favorite "fast bento" — DIY Lunchable with Bagel Crisps, Grapes, Turkey Pepperoni and Cheese, Broccoli)
But, to me, that's the beauty of Bento.  Even on days when you make the simplest of simple lunches, you can still have a fun and bright presentation thanks to colorful sillicone cups, cupcake picks and cookie cutters.
It's all good.
But, when it comes to "cute" ideas, I do use a couple resources for inspiration.
1.  Getting Bento Inspiration: Class Calendar
At the Kidlets' school, each teacher provides a monthly calendar showing weekly themes, books, letters, and lessons that will be covered.
Last year, when I received a new calendar at the beginning of each month, I would check for days where it would be easy to align a bento theme with a class book, theme or objective.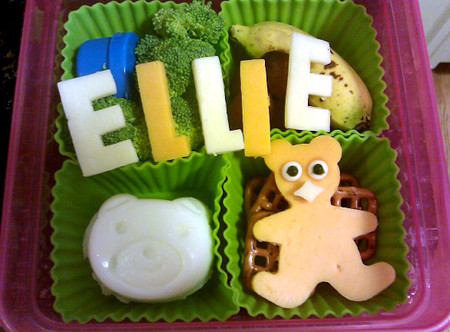 (poor phone photo from last year: a Bear Bento for "Teddy Bear Day" at the Little Lady's school.  Broccoli, cheese cut-outs, fruit, pretzels, and a teddy bear face shaped hard boiled egg)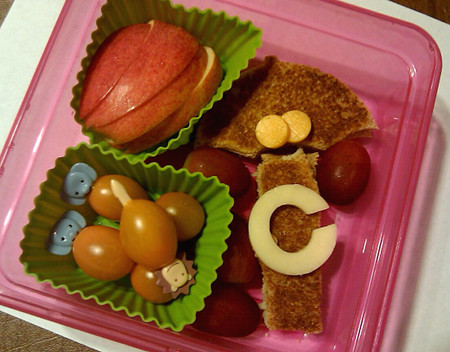 (another bento from last year: Chica Chica Boom Boom (which they were reading that particular day in class).  Grilled Cheese Coconut Tree (made with an umbrella shaped cookie cutter), Cheese cut-outs, Tomatoes, and Apples)
2.  Finding Bento Inspiration: Kid Favorites
The Kidlets have their own ideas from time to time about what they want in their lunches.  The Little Lady will always ask for Hello Kitty lunches and Mr. Boy loves Rockets (this week, anyway).
So, if all else fails and I can't think of anything to make or a theme to use . . . I just ask the Kidlets for ideas.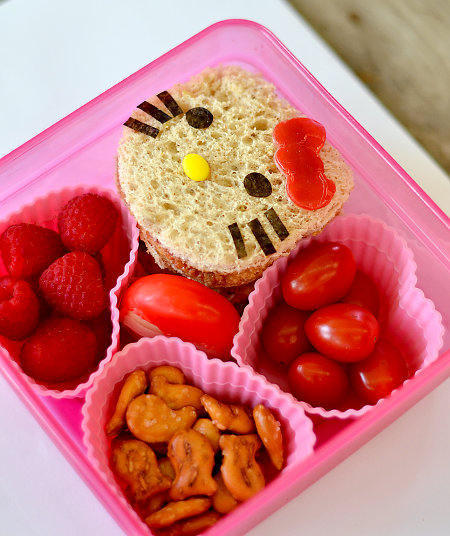 (The Little Lady's Hello Kitty Bento from last year)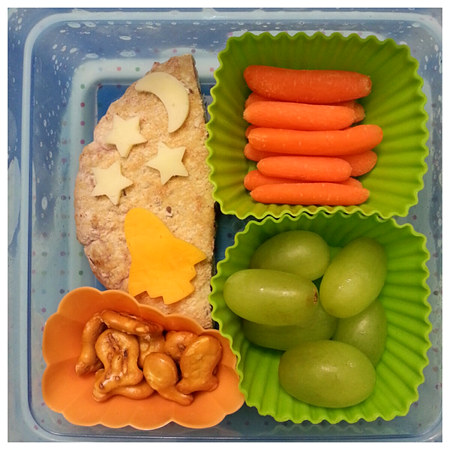 (Mr. Boy's lunch Monday this week: Outer Space Bento.  Mini Pita sandwich (cream cheese and jam) decorated with cheese cut-outs, carrots, grapes, and pretzel Goldfish)
3.  Finding Bento Inspiration: Holidays and Seasons
I always create bentos that relate to any current holidays or a change in seasons.  Now that Fall is around the corner, I have been playing around with Autumnal colors, pumpkin and leaf shapes, etc.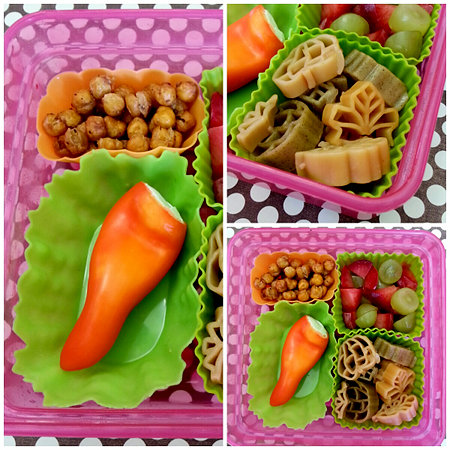 (One of the Little Lady's bentos, which I shared last week — The Colors of Fall Bento)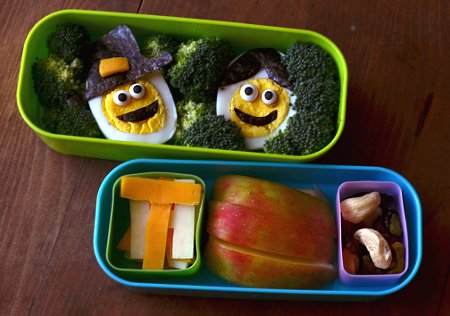 (Last year's Thanksgiving Bento: Pilgrim hardboiled eggs, Cheese Cut-outs that spelled Thankful, fruit, broccoli, trail-mix)
4. Finding Bento Inspiration: Pinterest and Instagram
If you ever want to find other bento loving folks, head over to Pinterest or stop by Instagram.  Search the terms #bento or #iheartlunch and you'll quickly find a host of bloggers who chronicle their kidlet lunch ideas.
Time to Share Your School Lunch!
Last week, I made the Kidlets "Breakfast for Lunch" Bentos . . .  and I completely forgot to share them!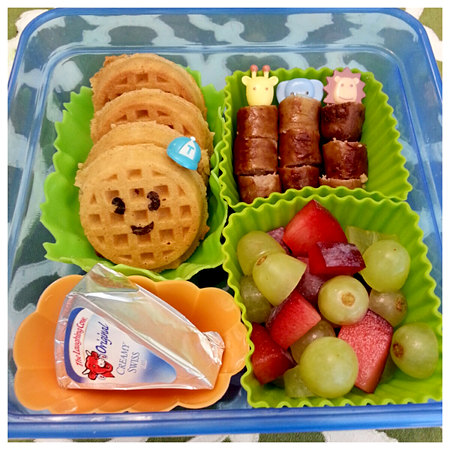 The Food:
Mini-Waffles — each kidlet had their 1st waffle decorated.  A boy for Mr. Boy and a girl for the Little Lady.
Sliced sausage (on Zoo Skewers)
Grapes and Nectarines
Laughing Cow Cheese
The Supplies
Below, you will be able to view (on Amazon) some of the supplies used in lunches from this post.

This year, I've decided to offer an opportunity to link your school lunches and/or bento lunches! I ADORE getting inspiration and ideas (and even "THAT'S how you do that" moments) from others out there … so share your photos!
You can link to a blog post or flickr photos — this linky is for any kind of healthy school lunch, regardless if it is Bento-style or not. I want to celebrate our efforts to provide good and enjoyable school lunches for our children!
Want to know more about Bento? Here are other posts that will explain the basics, give you resources and tips for successful lunch planning and preparation. I hope they help!

Bento Resources and Supplies
Bento Lunch Ideas and Tips
My Favorite Bento Box
I'm going to offer the linky every Tuesday when I share our Bento lunches so you'll be able to add your lunches every week.  My only request is that you either add a link back to this post or include the Lunch Graphic (which links back) to your post so others can get here to view the linked lunches too!

Let's get started!