My kidlets have never been on the over-weight side of the scale.  The Little Lady, since infancy, has always hovered around the 3rd percentile for weight, and Mr. Boy stays around 25th percentile mark.  Because of their tendency to be "light-weights," our pediatrician has pushed protein, healthy fats, fiber and "real" calorie snacks for the kidlets, as opposed to lots of fluff like crackers.
(which makes Mr. Boy very, very sad because Goldfish is his very "favoritest" snack in the whole wide world)
Since the kidlets love eggs, they have become a staple in our meals.  Even lunch and dinner see the incredible, edible egg several times a month. . . but in ways beyond the normal scrambled egg.
Two favorites around here are hard-boiled eggs and a meal we call "egg in a basket."  Since I am a fan of making food visually appealing for my toddler and preschooler, I enjoy making these two meals fun for them.
Not Your Mother's Hard-Boiled Eggs
Plain ol' hard-boiled eggs?  Not here!  I use egg molds and decorative elements to give the Little Lady's bento lunches  "personality," making the egg anything but routine.
*Use silicone egg molds to shape your eggs or use nori (dried seaweed sheets), cheese or cake decorating elements to add thematic flair to the eggs.
Eggs and Toast – with a Twist
And for a quick dinner (or "brinner," the silly word my Hubby uses to describe a "breakfast for dinner" meal), the kidlets LOVE Egg in a Basket.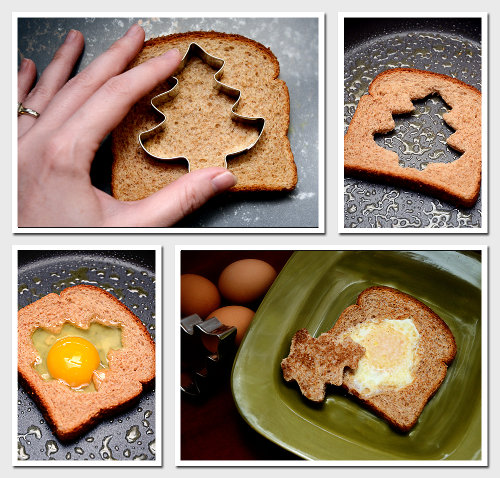 In a matter of minutes, I can very quickly create a fun dinner for the kidlets … and thanks to the myriad of cutters flooding my bento cabinet, I can turn a simple egg and humble piece of bread into an easy holiday themed (and frugal) meal.
Baked French Toast for the Holidays
Recently, I tweaked my Baked French Toast with Bacon Breakfast Casserole and replaced the bacon with cherries.  Yes, I know — how could I get rid of the bacon?  Hubby questioned me too, but I wanted to serve a festive looking breakfast now that we're smack-dab in the middle of the Winter Holidays.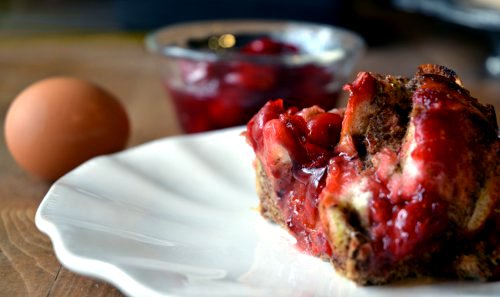 (I love, love, love Christmas and will look for ANY excuse to make ANYTHING more festive … so THERE, Hubby!)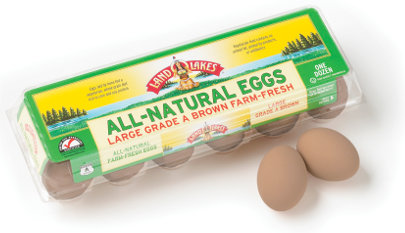 In each of the shown meals, I used Land O' Lakes All-Natural Eggs (the Little Lady and Hubby love when I use brown eggs).  These eggs have a rich, deep yellow yolk and a full, deliciously "eggy" flavor.
Land O'Lakes Eggs are backed by more than 90 years of experience in delivering premium, quality dairy foods that families can trust. All Land O'Lakes Eggs are "eggstraodinary," because they are produced by hens fed a premium vegetarian whole grain diet consisting primarily of whole ground corn and soybean meal, with no added hormones, antibiotics, animal fats or animal by-products. These eggs are gathered at the peak of the hens' egg-laying cycles, which can make the eggs more delicious.
To find these eggs at a store in your area, visit the Land O' Lakes site and for even more recipes, check out their Facebook Page (they are sharing TONS of yummy looking holiday recipes right now).
Disclosure: I received a coupon for Land O' Lakes Eggs as well as a gift-package to share information about this product.  Any opinions expressed in this post are my own.