G-A-S-P ….
It has been nearly FOUR MONTHS since I posted one of my meal plans.  Ye gads!
Now, do start worrying about us — we have most definitely been eating around here… but our schedules have been so crazy, I haven't taken the time to share our menus.
—————————
We've been busy … hanging out with our buddies and perfecting our "Mean Monster" faces for toddler stare-downs.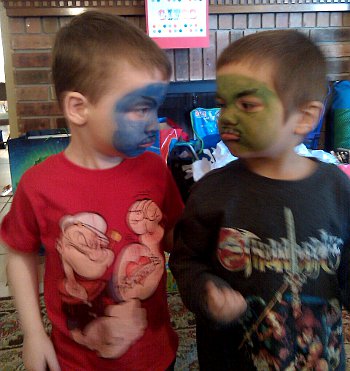 —————————
We've been busy …  eating

Whole Wheat Pizza Rolls

… my first recipe to share on 5 Minutes For Mom as one of their new Food Contributors!  (p.s.  I'll be posting there once a month, sharing favorite family-friendly recipes.)
—————————
We've been busy … living in a four year old girl's world … where bows make EVERYTHING prettier.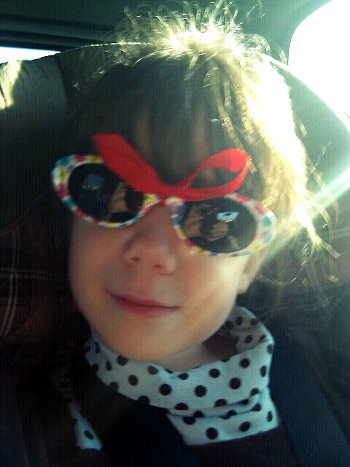 —————————
And, we've been busy … experimenting with Green Eggs and Ham for the upcoming Read Across America Day (March 2nd — also Dr. Seuss's birthday).
—————————
Meal Planning With Bountiful Baskets
For the past month, my menu planning has been a wee bit trickier thanks to Bountiful Baskets, which FINALLY came to Houston in January.  Purchasing produce, sight unseen, and then planning a menu around it has been interesting … and has done a good job of stretching my creativity when it comes to our evening meals.  It takes careful planning to use all the vegetables — which I order and pick up every two weeks — before they spoil.
(the fruit from the baskets doesn't have the same problem since the Kidlets inhale it all nearly as soon as I can unpack it)
But, the results have been delicious … and I've ended up with two new "kidlet-approved" soups out of my experimentation!  Score one for Mommy.
This week, my basket had loads of cucumber, tomatoes, potatoes, celery, and asparagus.   The tomatoes threw me into a panic when I saw them — we've gotten tomatoes in every basket so far and I have not been able to use them up fast enough.
B…u…t … a friend on Facebook mentioned I could always freeze the tomatoes if I was afraid of spoilage.
WHAT?  FREEZE TOMATOES?
Turns out, it's true.  You can freeze tomatoes.  I'm going to give it a try this week; if it works, I'll always have fresh tomatoes on hand whenever I want to make my slow cooker marinara!
Now that the tomatoes are out of my way, here is this week's plan:
Monday: Asparagus Pasta, Salad
Tuesday: Roasted Pepper and Chicken Quesadillas, Black Bean "Refried" Beans, Cilantro Lime Rice
Wednesday: Deconstructed Kebabs — Roasted Sausage with Onion and Potatoes, Salad
Thursday:  Spicy Pork Tenderloin and Mango Salsa (the same salsa I use on my Chipotle Quinoa with Corn and Black Beans — it is SO good on spicy foods)
Friday: Pizza … possibly the Pizza Rolls I mentioned above or our other favorite, Shaved Asparagus and Portobella Mushroom Pizza.  Haven't decided yet!
Do you share a menu-plan on your blog?  Leave the link in a comment so I can visit — I'd love to see what other families have cooking up this week.
This post is linked with Menu Planning Monday at Org Junkie.