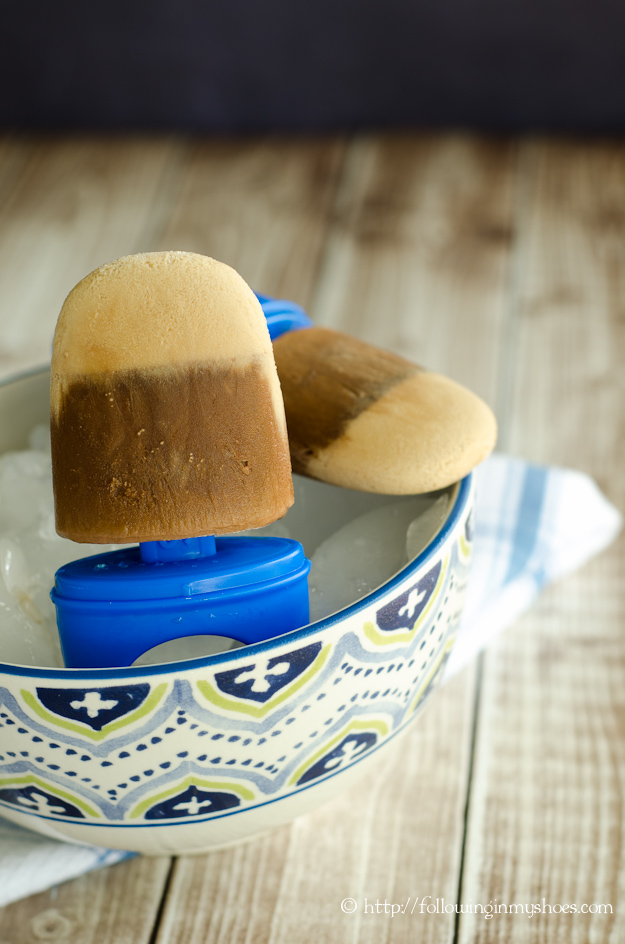 The past 20 days have been a whirlwind… an absolute whirlwind.
You see, this Mama started a new job and, for the first time in nearly 10 years, I'm working during the summer.
I still haven't quite adjusted to not being on a teacher schedule (let alone the stay-at-home mom schedule). It seems so bizarre to be sitting in an office while my Instagram feed is full of folks sharing pics of their swimming pools and splash pads and lazy Summer afternoons.
And, not only have I started a new job — I'm a Children's Ministry Coordinator, by the way — I stepped into this role during THE busiest time: Vacation Bible School.
Y'all… Y'ALL! I had no idea VBS required so much mental strength and fortitude … I'm twenty days into this job and I've already put in 123 working hours. The amount of coffee I've consumed just to keep me going is ridiculously high.
"BRING ME ALL THE COFFEE!!!!" has been my mantra each and every day … drinking it while I get ready, drinking a cup (or two) at my desk, and then having more than a cup during the afternoon and evening as I try to work from home, wrapping up all the little details that go into planning a 500+ Kid VBS (while also working on a Sunday morning kid-friendly worship service).
Life. Is. Busy. And, yes, I'm a wee bit envious of all the summer photos my friends are sharing.
Then, I discovered coffee popsicles.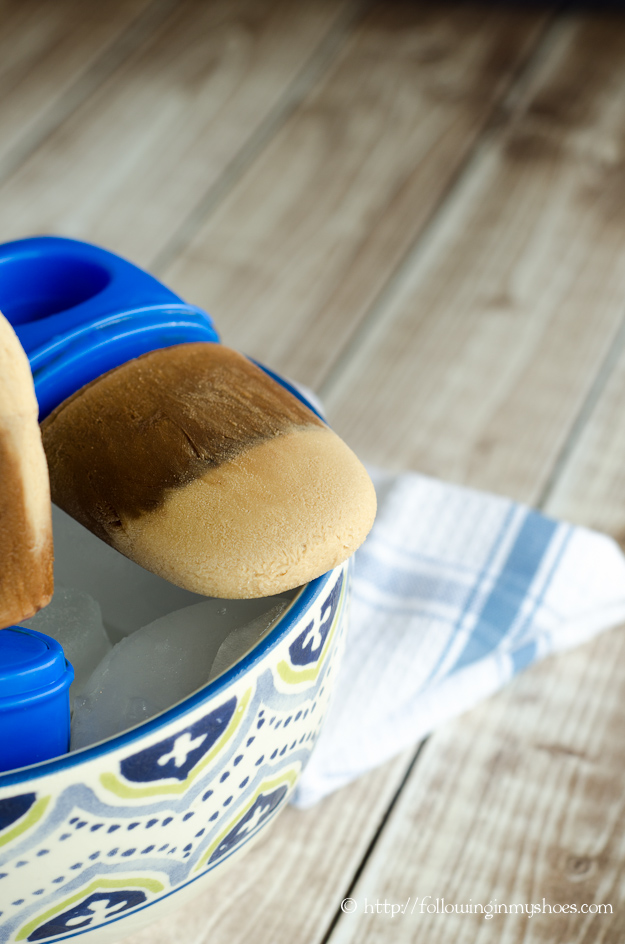 Strong coffee.  Cold Stone Sweet Cream from International Delight.  In the freezer.
SHUT THE FRONT DOOR!!!! It's like combining all that is good about Summer AND all that's good about coffee … I get my comforting delicious caffeine and I get to enjoy it in the form of a seasonal staple.
Then, I decided to throw in some Nutella. Because … well … why not???
(sometimes you just need chocolate, amIright???)
So, here they are … my stress-reducing, Summer-inspired Sweet Cream and Nutella Java Pops.
P.S. The best part? The caffeine in them means you can, in good-concience, tell the begging Kidlets "NO — these are Mama's!" when they ask for one.
That's right, my friends … a summer treat you. don't. have. to. SHARE!!!!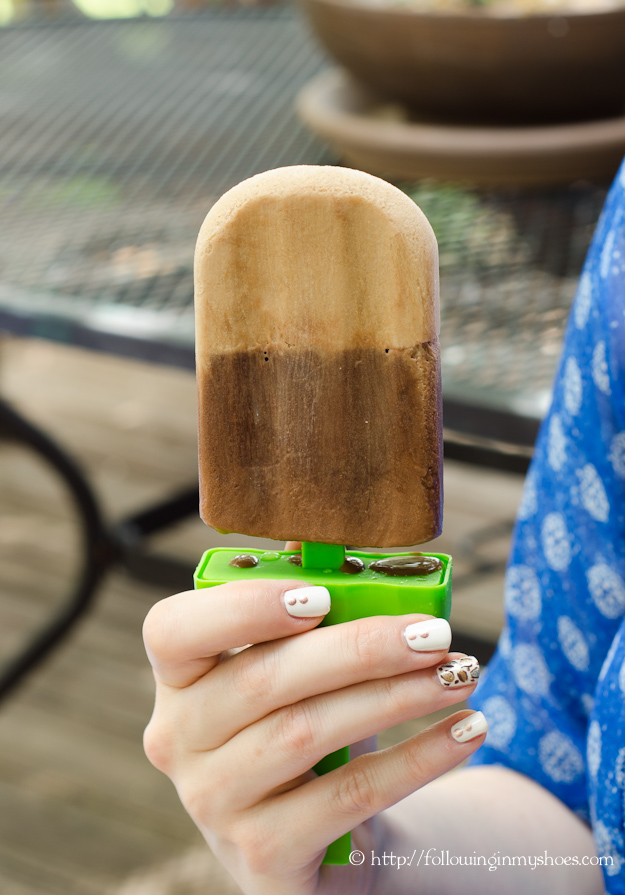 P.S. 2.0: If you're curious what other kinds of frozen treats one can make out of International Delight creamers and coffee products, I have options for you!  You can try my White Chocolate & Churro Hot Fudge Sauce over big ol' bowl of ice-cream, or you can browse the multitude of shakes, popsicles, and ice-cream recipes on Pinterest.
Sweet Cream and Nutella Java Pops
Ingredients
2 cups of strong coffee, divided into 1 cup measurements
⅔ cup of International Delight Cold-Stone Sweet Cream or ⅔ cup of Half-and-Half
4-6 Tablespoons of Chocolate-Hazelnut Spread
Popsicle Molds
Instructions
Mix 1 cup of the coffee with the creamer.
Pour into the bottom third of your popsicle molds. Do not attach the handles to the molds.
Place the molds in your freezer and freeze for 1-3 hours, or until set.
Meanwhile, mix the remaining 1 cup of coffee and the chocolate-hazelnut spread (to taste). If the coffee is still hot, you can seal the coffee and spread in a jar and shake to incorporate. If your coffee has cooled, you may have to use a blender to incorporate.
Place the Coffee-Hazelnut Spread mixture in the fridge to cool.
Once the Coffee-Cream has frozen in the popsicle molds, remove them from the fridge.
Check to ensure the popsicle handles will fit in the molds -- if they won't go past the frozen coffee section, use a knife to dig out a little of the center so the mold stick will go into.
Remove the coffee-hazelnut spread mixture from the fridge, shaking if needed to reincorporate the two ingredients.
Carefully pour the coffee-hazelnut spread into each popsicle mold, stopping just shy of the top to allow room for expansion as it freezes.
Add the popsicle mold sticks/handles into mold and lock into place.
Return the popsicles to the freezer and freeze an additional 4-8 hours or until they are completely frozen.
To remove the pops from the molds:
Carefully run warm water on the outside of the molds until the pops pull easily out. Enjoy right away!
Notes
Makes 6-8 mini pops or 4 full-size pops.
This is a sponsored conversation written by me on behalf of International Delight. The opinions and text are all mine.