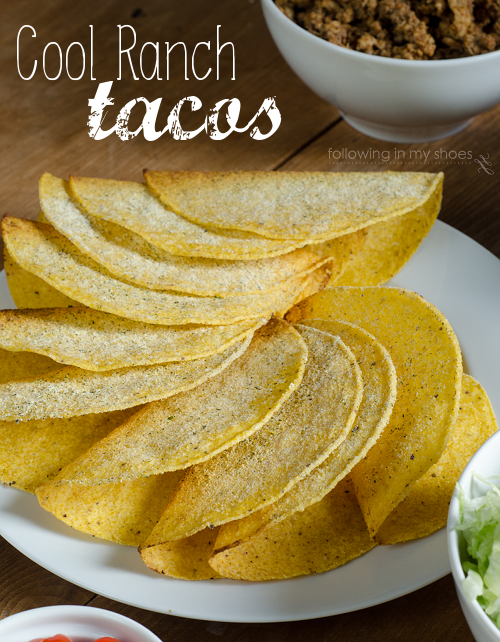 So, the Husband and I have a dark and dirty secret: we freaking adore Taco Bell.
When I was pregnant, a lot of my time was spent there ordering Bean Burritos and the Chicken Ranch Burritos.
Later, when the later item was removed from their menu, I cried.  Ugly, hormonal tears.
Nowadays, Taco Bell doesn't see me as much but the Husband continues to make lunch treks to the drive-through, paying for his new favorite indulgence: the Cool Ranch Doritos Taco.  When I was asked to create a recipe for McCormick on the theme "Twisted Taco," the Husband was quick to offer up his beloved Cool Ranch Taco for a little recipe experimentation.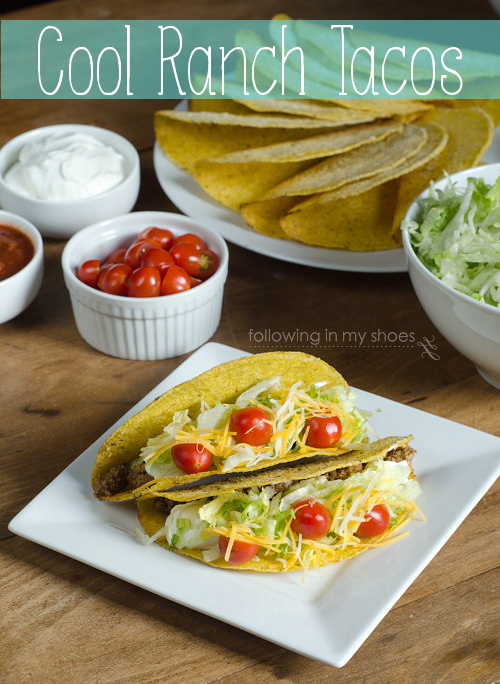 McCormick spices account for nearly 95% of the spices and herbs in my cabinet: the Cocoa-Chili blend I use in my Mexican Hot Chocolate Cookies, Italian Herb Blend that helps make my Perfect Wheat Pizza Crust, and let's not forget my Homemade Taco Seasoning which is made from my red-lidded bottles of Cumin, Chili, and Oregano.
McCormick was the spice my Mother always used and I have followed suit, using those familiar flavors to create our family-friendly meals.
Now, in a twist on the normal Taco Tuesday we enjoy each week, our family now has the Cool Ranch Taco Recipe to change up our Tex-Mex routine.  And the seasoning mix is versatile!  Use it on corn or flour tortillas to make your own Homemade Cool Ranch Chips for a healthier snack than the bagged variety.  Or, if you have leftovers from your Taco Night, present the leftovers as Cool Ranch Nachos; I did that with our leftovers and that pan of nachos were GONE in minutes.
This is a recipe your family will enjoy anyway you serve it!
Homemade Cool Ranch Tacos
Make your own Cool Ranch Tacos with spices from your cabinet! Preservative and MSG free!
Ingredients
Cool Ranch Seasoning Mix
¼ cup Powdered Buttermilk*
1 tablespoon Ground Parmesan Cheese or Nutritional Yeast**
1.5 tablespoons of Ranch Seasoning Mix (see below)
1 teaspoon Onion Powder
.5 teaspoon Garlic Powder
Salt to taste, if needed
Dash or two of Cayenne Pepper
Homemade Ranch Dressing Mix
1 teaspoon of Onion Powder
.5 teaspoon of Garlic Powder
2 teaspoons of Dried Dill
1 teaspoon of Dried Basil
.5 teaspoon of Dried Parsley
.5 teaspoon Salt (add more to taste if desired)
Taco Ingredients
1 pound of cooked and seasoned Ground Beef, Chicken or Turkey
8-12 Crispy Corn Taco Shells
Shredded Lettuce
Sour Cream
Shredded Cheddar Cheese
Diced Tomatoes
Salsa
Cooking Oil Spray
Instructions
Preheat your oven according to the instructions on the packaging of your taco shells.
Mix the Ranch Seasoning Mix ingredients, reserving 1.5 tablespoons of the mix for the Cool Ranch Recipe. (the remainder can be stored in an air-tight container)
In small bowl, blend all of the Cool Ranch Seasoning ingredients. If desired, you can blend or puree the ingredients in a blender or food processor to make everything very fine. (Set aside or store the seasoning in an air-tight container or shaker.)
Lightly spray the exterior of each taco shell with your cooking spray or olive oil mist, and the sprinkle the Cool Ranch Seasoning on each side. To keep a mess off your counters, do this over a large bowl (to catch the excess seasoning).
Line the prepared shells on a heavy-duty cookie sheet, standing them "upside down", with the bottom of each shell facing up.
Carefully place the pan into your preheated oven and cook for 3-6 minutes -- watch them carefully and do not let the seasoning burn.
Remove from the oven and fill the shells in the following order:
Cooked/Seasoned Meat, Sour Cream, Shredded Lettuce, Diced Tomatoes, Shredded Cheddar Cheese.
Serve immediately.
Notes
*Powdered Buttermilk can be found in your baking aisle at the grocery store; it is simply (as the name implies) dried buttermilk that can be used in dips or baking or seasoning blends that call for normal buttermilk.
**Nutritional Yeast is a non-dairy (and gluten-free) alternative to powdered cheese. It's a natural substance that can be found at whole food stores or the "healthy/gluten-free/specialty food" aisles in grocery stores.
The Homemade Ranch Dressing Dry Mix can be made ahead of time and stored in an air-tight container.

This recipe will make enough Cool Ranch Seasoning mix for future use; it can be stored in an air-tight container (I used an old spice bottle).
Win a McCormick Spice Kit!
McCormick Spices are great for any meal (and if you need inspiration, check out their Pinterest Page!) and if your family is getting tired of the same ol' tacos each week, McCormick Spices will definitely help "spice" things up!
(sorry, I just couldn't resist)
McCormick is giving away 30 Spice Kits and I'm hoping one of you gets to win one!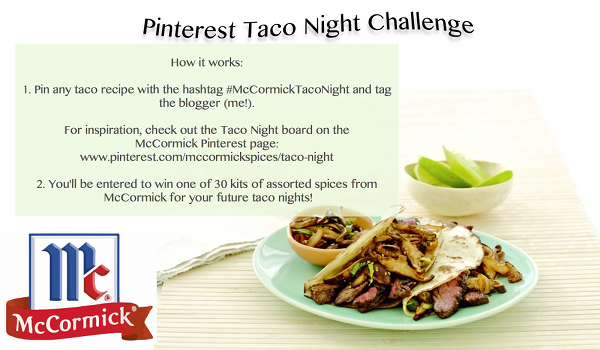 Simple Entry:
Pin any taco recipe — like this one!! — using the hashtag #McCormickTacoNight and tag me (@rachellacy).
That's it! And, good luck!!!!!
disclosure: I was provided a few new bottles of spices and compensated for my time to develop this recipe. Winners of the spice kit will be chosen by The Motherhood as representatives of McCormick.