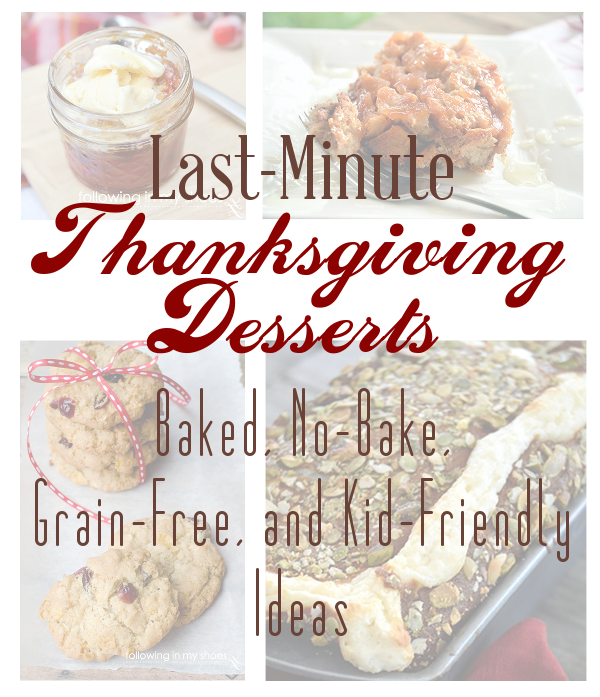 So, I was supposed to share my weekly meal-plan with you yesterday … but, I've been a bit distracted lately on Pinterest.  Instead of focusing on breakfast, lunch and dinner ideas … I've been letting my sweet tooth dictate my pins.  And so, unable to control myself, I can't do anything but think about pears and apples and pumpkin and every other perfect Thanksgiving dessert.
It's like a sickness, y'all.
I think it has something to do with the fact this is my first holiday — the first real test — since making the decision to be grain-free.  Thanksgiving has always been my favorite food holiday, and this will be the first time I come face to face with the traditional holiday desserts that I adore. .. and not be able to take a single bite.
Yeah, probably shouldn't tempt my will-power by spending on Pinterest.
But, here we are … my list of Easy Thanksgiving Desserts … showcasing both recipes I CAN have and the decadent goodness I WANNA have.
Someone make them all for me and then tell me how delicious each is.  Wait — scratch that.  Tell me they are all horrible.  Tasteless.  Imperfect.  Bland.
(even though we all know they are truly wonderfully, amazingly scrumptious!)
Baked Desserts
Individual Apple-Cranberry Crisps
Pumpkin Bread with Eggnog Cream Cheese Filling
Apple Bread Pudding with Whisky Caramel Sauce (recipe is gluten free but can be made with challah, brioche, or french bread)
Pumpkin Crunch Bars (dump a little of this and that into a pan and then just wait for it to bake… so easy!)
Pumpkin Gingerbread Trifle (my FAVORITE dessert!!!)
Brown Butter Pecan Gooey Butter Cake with Spiked Whipped Cream
No-Bake Desserts
No-Bake Snickers Caramel Apple Pie
No-Bake Biscoff Cheesecake Shooters
Eggnog Milkshake with Gingersnap Crumbles
Sweet Potato Pie Dip with Pie Crust Dippers
Candy and Popcorn
Grain Free Desserts
Pears Dipped In Chocolate and Hazelnuts
Spiced Pumpkin Chiffon Cups with Vanilla Maple Whipped Cream
Kid-Friendly Desserts (get 'em in the kitchen!)
Easy Turkey Cupcakes (a fast way to dress up cupcakes … and simple enough for Kidlets to handle!)
CRAZY EASY Turkey Oreos  (for the little bakers in the kitchen!)
Candy Apple Dessert Bar (LOVE this idea for a family-friendly and fun dessert option!)