I get a lot of questions about what type of cutters to use in Bento Lunches. . . in fact, it probably gets asked several times a month, typically whenever I post a lunch picture on Facebook or Instagram.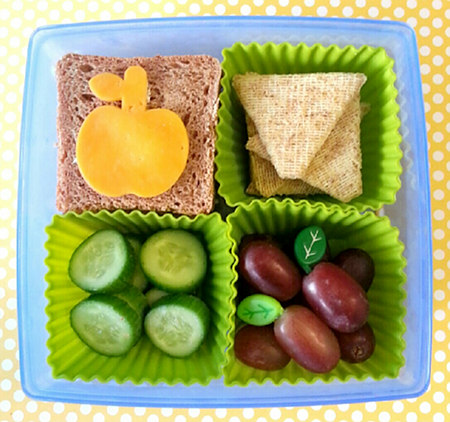 (Sunbutter sandwiches on whole grain bread, apple shaped cheese slice, triscuits, red grapes, baby cucumber slices)
When it comes to using cutters to create themed lunches for the Kidlets, I rarely use cutters deemed "bento food cutters."  There isn't any real reason as to why I avoid them — I just like using Cookie Cutters.  They are easy to find in grocery stores, craft stores, Target, Wal-Mart … even Amazon and Ebay if there is a specific item I'm looking for.
Today, I'm going to share a few different types of cutters from within my bento cabinet — hopefully, this will help you get an idea of which cutters work and which ones don't!
Cutting The Cheese: What Works and What Doesn't
Forgive me — that header was just too much, wasn't it?  I obviously need more coffee.
Anyway . . . let's start with cheese, which is the easiest element to cut and transform for a theme bento.
Honestly, nearly any cutter will work for cutting shapes out of cheese and other soft food items (bread or processed meats like bologna).  It doesn't matter if they are plastic or metal, if it will cut through the food in question, it will work.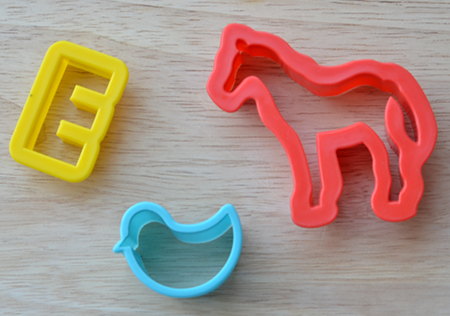 BUT . . . you need to make sure your cutter is "open" so that you can poke the food out of the cutter after it has been cut.  If not, you will end up with cheese, bread, etc., stuck in a cutter and — as you grumble and gripe, trying to use every tool possible to dig the food out — then you have a mangled, usually broken item that looks nothing like the little cute shape you'd envisioned decorating your bento lunch.
Example: this sweet lion is NOT good for cutting out cheese or other items … there isn't a good way to get the cut food out.  Sure, you could poke the legs of your cheese lion out but then his face would be stuck.  And what good will that do you?  Exactly.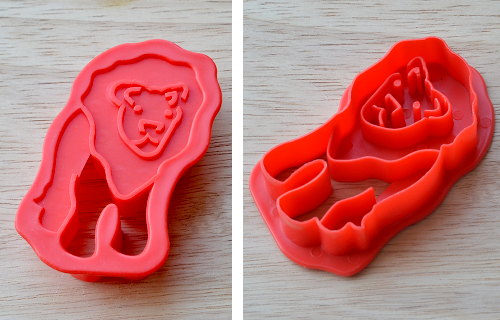 Cutting Sandwiches into Shapes
Bread is soft, as are most sandwich ingredients, so making a cute, shaped sandwich is easy for bento lunches.
The only thing you have to watch out for when choosing a sandwich cutter is the size of the cutter.  Several times — SEVERAL times — I have been burned by buying cutters larger than a standard slice of bread.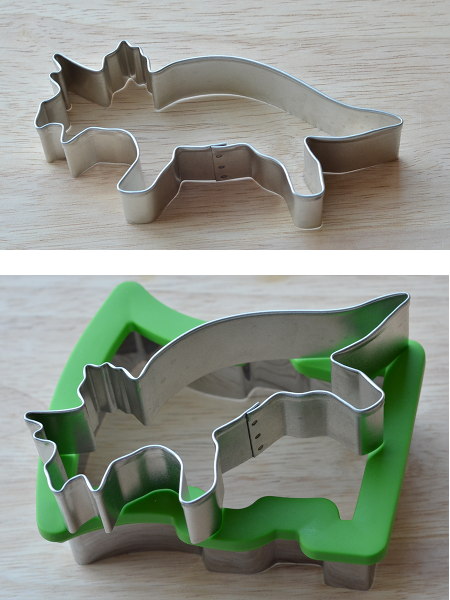 (I purchased a set of 8-10 dinosaur cutters for Mr. Boy's sandwiches this year …. and when they arrived, I discovered only ONE was small enough to fit a slice of bread.  The dinosaur above fits exactly over the cutter below, which is bread sized.  All of the rest are twice this size… So, yeah, check your sizes BEFORE you spend your money!)
Metal Cutters
As far as metal or plastic — I prefer metal cutters.  They are sharper and just cut through bread (whole wheat, white and even denser breads) easily.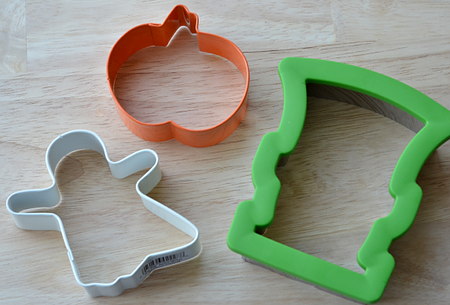 (these Holiday Themed cutters are recent purchases from Target — the largest, "Frankenstein Head", is nearly exactly the size of a bread slice.)
Spring Loaded Cookie Cutters
Using spring loaded cutters is new for me — but they aren't new for the bento scene.  Anytime I have visited Japanese import sites, like Bento USA by All Things For Sale, I have ogled the spring loaded cutters, wondering if they really — really — would work for sandwiches.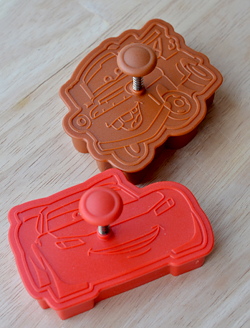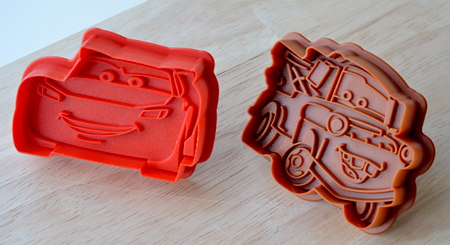 Guess what?  They do.  Beautifully . . . as you can see from this bento from last week.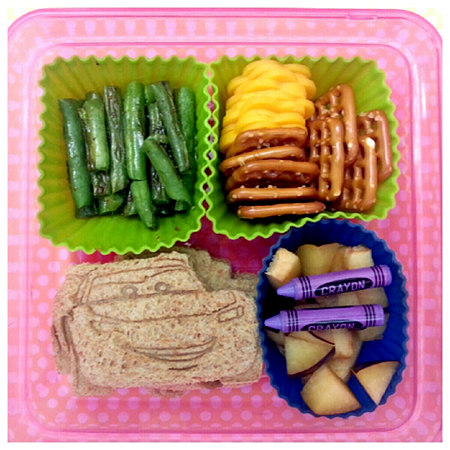 (Cars "Coloring Page" Bento: roasted green beans, pretzels and cheese flowers, plums with crayon food picks, and Mater & McQueen sunbutter sandwiches)
You can find spring loaded cutters online, at cake supply stores, Williams-Sonoma, and places like Home Goods, Ross or TJ Maxx.  My set of Cars 2 cutters were Williams-Sonoma products I purchased at Home Goods.  You can also check ebay to find even better deals on them.
For sandwiches, the cutters work best when cutting through individual items rather than an entire sandwich.  Cut each slice of bread and then press down hard on the raised knob.  This pushes the "Stamp" down onto the bread (or cheese if you're using that) and leaves the character impression.
Now, using a stamp cutter like this does result in a very "flat/smooshed" piece of bread, but for some reason, most Kidlets don't seem to mind it.
Alphabet Cookie Cutters
Alphabet cutters are easy to find.  From the cake supply aisle of Hobby Lobby and Michaels, you can purchase small metal fondant cutters.  These metal cutters, while small, are sharp enough to cut through cheese, small vegetables, bread, etc.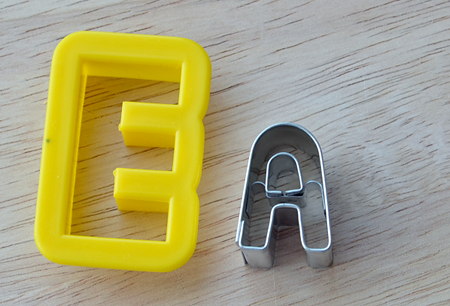 Wilson also makes plastic alphabet cutters of varying sizes — they are great for cutting "cheese letters" for themes or entire words.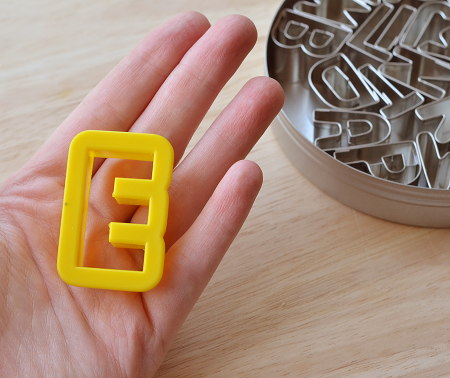 I also have a set of teeny-tiny alpha-cutters I found on a bento site.  They are not as easy to use because you have to use a tooth-pick to push the cheese out of the cutter . . . and, since they all together on the disks, it sometimes takes a bit of maneuvering to line up the particular letter you want.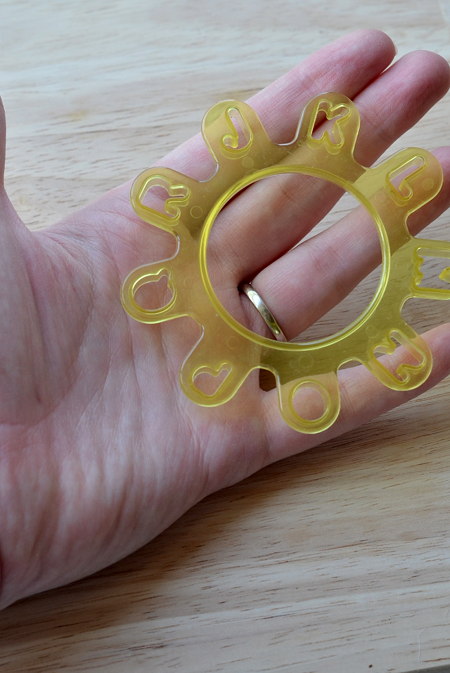 Vegetable Cutters
Vegetable cutters are metal and usually long.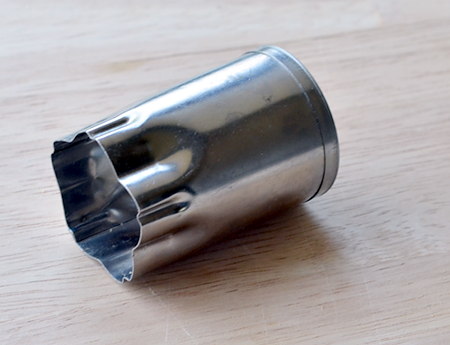 If sharp enough and sturdy enough, you can cut through cucumbers, bell peppers, apples, and even carrots.  The variety of shapes is not as broad when it comes to vegetable cutters  — I have only been able to find flower shapes.
Whole Sandwich Cutters and Sealers
The Krustbuster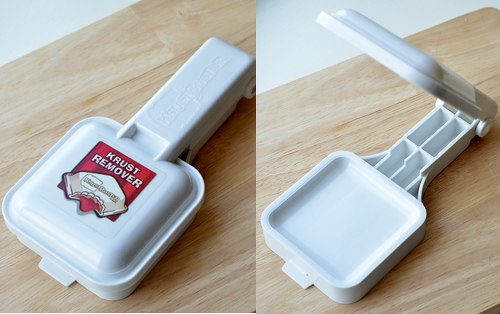 This (called a Krust Buster) is the cutter I use most often for shaping sandwiches — it also seals them and removes the crusts.  It creates the PERFECT peanut butter and jelly sandwich because the seal keeps everything from oozing out.  And, if you want to make your own freezer-friendly "uncrustables", this tool will do it!  I purchased mine from Amazon.
Japanese Sandwich Cutters
Bento Stores also carry other "pocket" sandwich makers — nearly all of which are also shaped in animal or cartoon character shapes.  The Little Lady is begging for the bunny rabbit!
(you can click each image to be taken to the selling site)
DIY Uncrustables with Cookie Cutters or Cups
For a "DIY" style of sealed sandwich, cookie cutters in graduated sizes will also work well.  Visit Bento Monsters for a tutorial on using these sized cutters (and the mouth of a drinking glass) for a "pocket" or uncrustable style sandwich.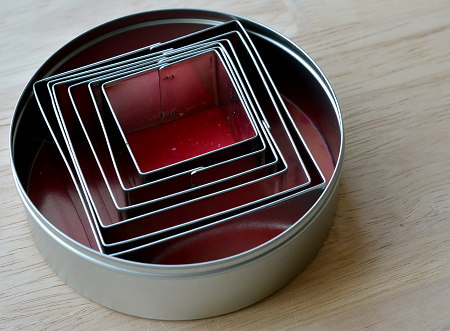 Lunch Punch Cutters
Lunch Punch is a company that creates fun sandwich cutters.  Our favorite is the puzzle set.  The set comes with several different sized and shaped puzzle "punches".  You can use them with sandwiches or cheese.
These cutters can be found in stores and on quite a few online stores, such as Amazon.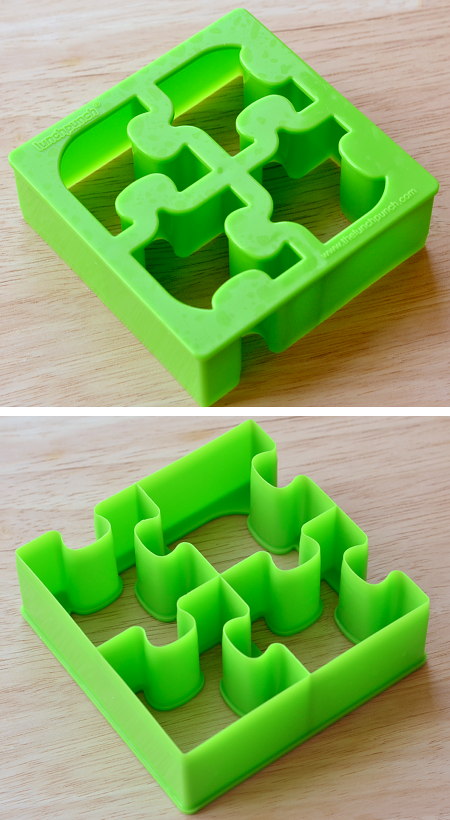 Are There Any Foods That WON'T Work with a Food Cutter?
The key to a successful cookie or food cutter experience is to use the right tool for the right food . . . and to understand that some foods are more difficult to cut than others.
"Stringy" Deli Meats — ham, bologna, and other such tightly compressed meats can work well with certain cutters, but deli meats like turkey or chicken breast won't.  They fall apart and imply won't retain the shape from the cookie/food cutter.
Fluffy or airy breads like french bread — simple shapes like squares and (maybe) circles are really all you can get from such a porous bread.  It's hard to get a really good, defined shape from a traditional cookie cutter.
What Are Some Other Unique Ways to Use Cutters To Decorate Bento Lunches?
Babybel Cheese — most any small cutter can be pushed through the wax coating of a Babybel cheese.  You can create faces, flowers, letters, ladybugs, the Red Angry Bird… yup, all of that from a simple cutter and a Babybel cheese.
Nori — this dried seaweed is sold in sheets and can be found in the Asian foods aisle of your grocery store.  Traditionally, it is used for sushi but many bento-makers use it for adding details to themed food.  You will need very sharp metal cutters, punches, or scissors to create your shapes.
You can always pick out the nori in a bento by it's green-black color…. and the fact that it looks like nori!
I Heart Lunch
Want to know more about Bento? Here are other posts that will explain the basics, give you resources and tips for successful lunch planning and preparation. I hope they help!

Bento Resources and Supplies
Bento Lunch Ideas and Tips
My Favorite Bento Box
Finding Ideas and Inspiration for Bentos
Link Up with I Heart Lunch!
This year, I've decided to offer an opportunity to link your school lunches and/or bento lunches! I ADORE getting inspiration and ideas (and even "THAT'S how you do that" moments) from others out there … so share your photos!
You can link to a blog post or flickr photos — this linky is for any kind of healthy school lunch, regardless if it is Bento-style or not. I want to celebrate our efforts to provide good and enjoyable school lunches for our children!
I'm going to offer the linky every Tuesday when I share our Bento lunches so you'll be able to add your lunches every week.  My only request is that you either add a link back to this post or include the Lunch Graphic (which links back) to your post so others can get here to view the linked lunches too!
Link up your school lunches and bentos!  Please use a permalink for your post rather than linking your general blog/flickr account URL — this will help people go directly to your fabulous lunch!
Note: you can link a blog post, facebook photo, flickr page, etc.

Now — link 'em up!