My kidlets are nearly a month in as far as school goes … and I'm a month in with all the Bento business.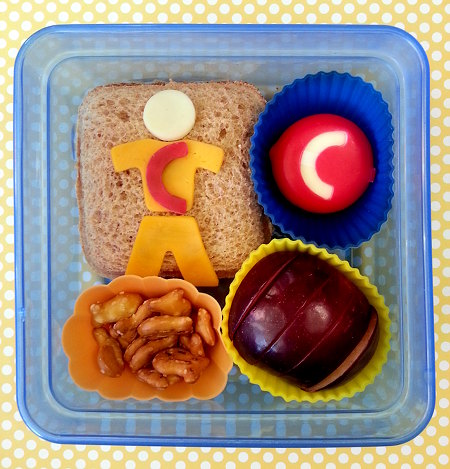 (Super-Kid Bento: Sunbutter & Maple Pocket Sandwich, Babybel Cheese, Sliced Plum, Pretzel Goldfish)
Guess what?  Trying to come up with food ideas each week is hard, yo.
I have one little girl that will eat anything (until she gets tired of it) and one little boy who will love a food one day and hate it the next.  Heck, sometimes he likes it at breakfast and hates it by the time we get to school.  Mr. Boy is what the modern world calls "picky."
(I just call him bull-headed.)
Regardless, keeping lunch fun, delicious and healthy can be a challenge day in and day out with any kid, regardless if they have very strong "food opinions" or not.
Making Lunch for Picky Eaters
On Facebook, my friend, Shannon, asked for help with "bento ideas for picky children or children with SNs [special needs] and/or that have texture issues."
I have a few thoughts on the whole "what do you pack" for any kid, regardless if he/she is picky, has sensory or texture issues, etc.
Pack the healthiest things your child will eat

(even if you end up packing the same thing each day, at least you know what nutrition and essentials your kidlet is consuming)

Offer at least one new thing each week (in smaller portions)
Present the new food in a "fun" or appetizing way  (do something that garners their interest in that food)
Introduce Something New
If Mr. Boy had his way, he would eat peanut butter sandwiches, apples, and pretzels all. day. long.  Followed by cupcakes and cornbread.  A Mommy can't really send all of that in a lunch, can she?
No, but I can send what I know he will eat and then ADD at least one new thing each week.  My goal is to expand what he likes and discover more options for my morning packing routine.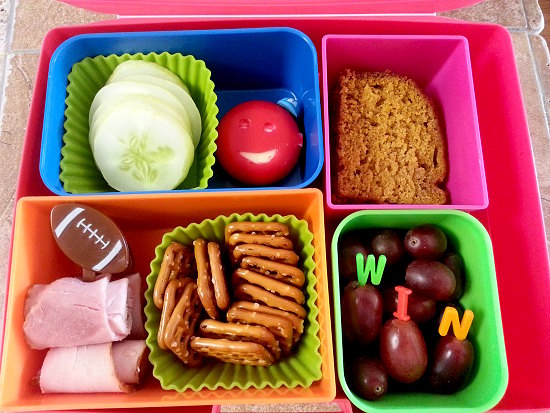 (Mr. Boy's "Ready For Some Football" Bento: Sliced Lemon Cucumber, Baby Bell Cheese, Homemade Pumpkin Bread, Ham Rolls, Pretzels, and Grapes.  For this lunch, I used a "Laptop Lunchbox," which I am reviewing this month.)
If I send something new, I try to do it on a small scale.  As an example, check out the lunch above — Mr. Boy's "Football Lunch," as he called it, which has a few (just a few, in case he didn't like them) sliced lemon cucumbers in it.  Cucumbers?  Yeah, wasn't sure if that would fly.  This Little Boy is NOT a fan of vegetables.  At. All.
But, I keep trying — believing in the silly notion that, one day, he will find a veggie he likes.  Yesterday?  In his football lunch?  He did.
Yup, "lemon cucumbers" seem to be Mr. Boy's soul mate in the veggie world.  It's a small, lemon-sized, yellow cucumber that I picked up from the Farmer's Market this weekend.  I sliced that good ol' boy up and told my son I put Cucumber Chips in his lunch.
He ate it all.  ALL of it.  Proof Positive that even picky eaters can surprise you.
Present Food In A Way that Appeals To Your Child's Interests
Last week, Shannon (who asked the question that started this post) had a similar surprise of her own.  She is an AWESOME mom who works hard with her two brilliant boys, Finley and Kieran.  Both boys have some special needs, which she discusses on her blog, Potamus Prefers.
Her sweet Finley (on whom the Little Lady has a wee crush) was an early ready and LOVES words and letters.  Recently, Shannon began making bento style lunches for the boys . . . and Finley, who has never liked or wanted to try cheese, ATE the cheese she gave him.
Why?  Genius that she is, Shannon presented the cheese in a new way — she used a Letter cookie cutter to make a "cheese initial" for her boy.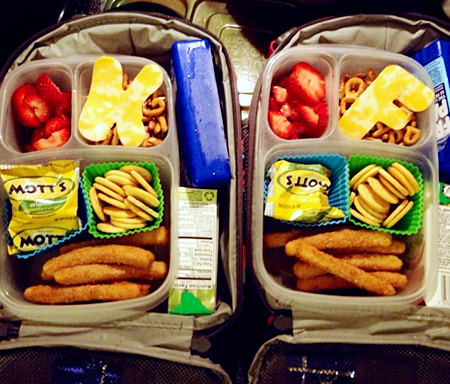 (photo used with permission)
Presenting food in a new way — especially in a manner that appeals to your Kidlet — can often in getting your child interested in eating a "no" food.  It's worth a shot!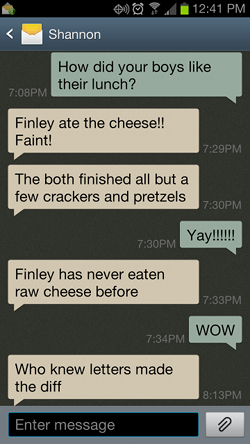 (yes, sometimes I even "text" bento)
Time To Share Your Lunch!
Since I have already shared some of our current lunches in this post, I'm not going to share another.  Instead, I'm going to give you a few resources for food ideas that work well for school lunches and bentos.
School Lunch and Bento Ideas
Lunch Box Idea List (fantastic, printable resource from Wendolonia)
Vegetarian Lunch Box Idea List (another resource from Wendolonia)
Sandwich Ideas (again, Wendolonia!)
ABC Ideas For Your Lunchbox (great, EXTENSIVE, alphabetical list of ideas and recipes)
Breaking Down the Lunchbox (great ideas from Food For My Family, who has the female version of my picky Mr. Boy)
Kidlet Food (some of our tried and true favorite lunch staples; Kidlet Approved!):
I Heart Lunch

This year, I've decided to offer an opportunity to link your school lunches and/or bento lunches! I ADORE getting inspiration and ideas (and even "THAT'S how you do that" moments) from others out there … so share your photos!
You can link to a blog post or flickr photos — this linky is for any kind of healthy school lunch, regardless if it is Bento-style or not. I want to celebrate our efforts to provide good and enjoyable school lunches for our children!
Want to know more about Bento? Here are other posts that will explain the basics, give you resources and tips for successful lunch planning and preparation. I hope they help!

Bento Resources and Supplies
Bento Lunch Ideas and Tips
My Favorite Bento Box
Finding Ideas and Inspiration for Bentos
I'm going to offer the linky every Tuesday when I share our Bento lunches so you'll be able to add your lunches every week.  My only request is that you either add a link back to this post or include the Lunch Graphic (which links back) to your post so others can get here to view the linked lunches too!