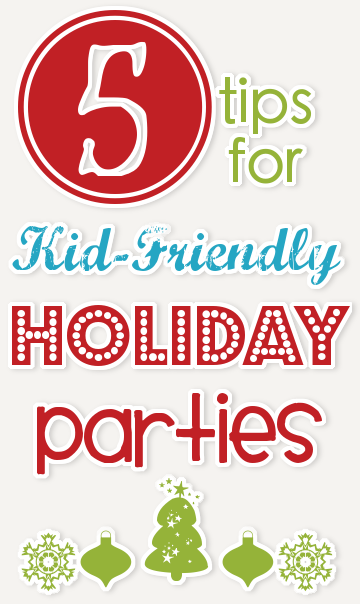 Everywhere you look, there are tips for having parties — recipes for cocktails and exotic appetizers — Pinterest boards dedicated to little black dresses.
Must be nice!  Here in my world, adult parties aren't happening.  With wee little ones and no sitters, the "Grown-Up Parties" will just have to wait a few years.  No, for us, when it comes to the Holiday Season, we celebrate with Kidlets . . . and other parents also in this stage of life.
Today, instead of giving you ideas for the perfect adult Christmas party, I want to share my Top Five Tips for Planning Family-Friendly Holiday Parties.
5 Tips for Kid-Friendly Holiday Parties
(1)  Be it Simple or Elaborate, Pick a Theme.
Trust me — a theme gives YOU direction as you start brainstorming for your party and will help in every aspect of planning: food, decor, activities, invitations.
Some ideas for Kid Holiday Parties: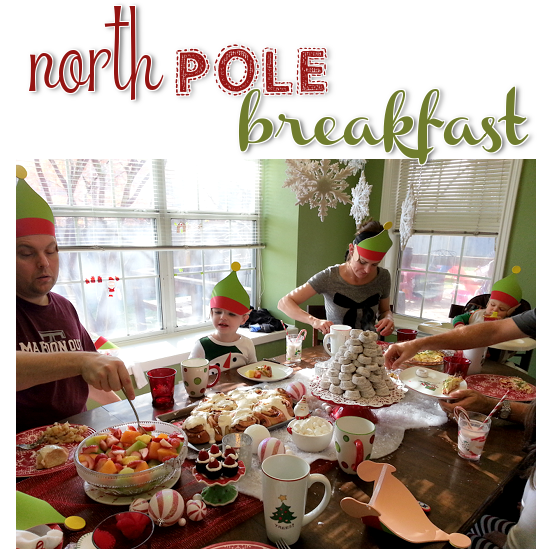 North Pole Breakfast — invite friends and family over for a weekend brunch where pajamas and house-shoes are welcome!  Use your Christmas decorations to set a festive tone and cook your favorite holiday breakfast recipes.  I'm going to have a recap later this week about our recent North Pole breakfast (including recipes and activities).  In the meantime, here are some kid-friendly breakfast dishes to get you started!
(visit my North Pole Breakfast Pinterest Board for more ideas)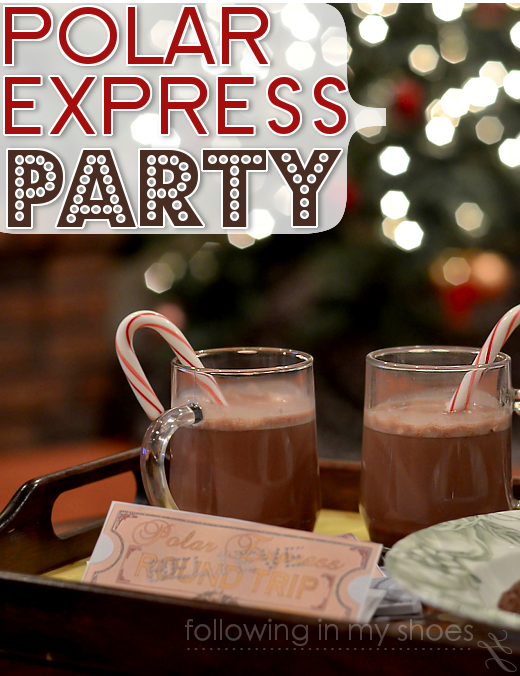 Polar Express Pajama Party — this party doesn't get any easier.  Make popcorn (or cookies) and hot chocolate, press play on the movie, and then watch your PJ-clad Kidlets become mesmerized by this Holiday Classic.
(visit my Polar Express Pinterest Board for more ideas & resources)
Other Party Themes?  Cookie Decorating or Gingerbread House Decorating Parties and Children's Book Exchanges are easy to put together and fun for kids of all ages!
2) Food: Make it Fun, Make it Easy, Make it Kid-Friendly
We all know kids are notorious for being picky eaters, so take some time to plan food items kids will like — both fun and healthy options.    Don't forget to check with your guests to see if any attendees have food allergies!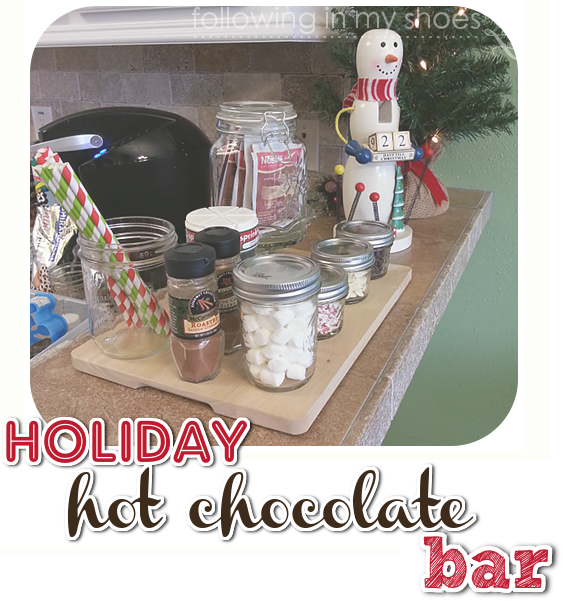 Sandwiches cut from Christmas Cookie Cutters
(visit my Kid Food Pinterest Board for more kid-friendly food ideas)
3) Don't Forget To Plan An Activity
Nearly every child enjoys making something and a simple game is a good way to break the ice at a party.  Providing a craft table, with art supplies or project kits (like ornament kits sold at Target or Hobby Lobby) gives kids the chance to express themselves AND they  end up with a party favor!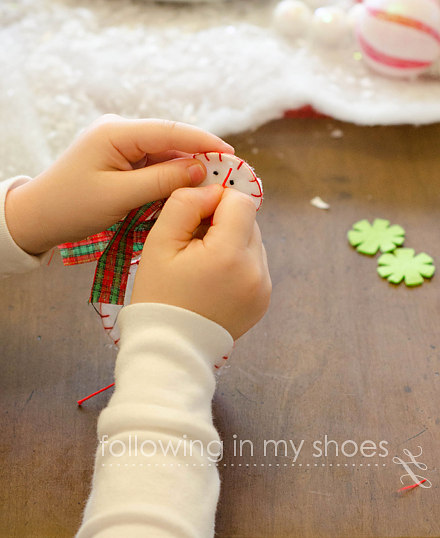 4)  Call On Your Little Helpers!
Unless you are planning this party as a surprise for your own children, let your kids participate in the planning for your kid-friendly holiday party.  They will have fun browsing Pinterest with you and having a say in the party's theme, food, and activities will only make them more excited!
Don't forget to have them take an active roll in the actual prep-work as well!  They can help clean and decorate, and — depending on your menu — assist with baking and food prep.
Let them help you.  It's quality time for both of you and they will be proud of their involvement.
5) Don't Stress!
Believe me — I fully understand that throwing a party can be stressful.
(oh the stories my husband could tell ….)
Don't let yourself reach the point where it isn't fun for you.  This party is for your family — your children.  Enjoy the time with them.  Laugh when they laugh and smile as they squeal with siblings and friends.
This is more important than tracking down those late RSVP'ers. . . more important than having "the party of the year."  Enjoy your handiwork but enjoy your family more!

Breville has released new, time saving products such as the Smart Oven, just in time for the holidays! Take the guess work our of holiday cooking with the Smart Oven, the oven that does the thinking for you. Check out their website for more information on this product and other great gift ideas. 
And don't forget to reply below for two chances to win your choice of amazing Breville products either for yourself or as a gift to a loved one: YouBrew, Tea Maker and Smart Oven products ($250 ARV)
This is a sponsored conversation written by me on behalf of Breville. The opinions and text are all mine. Official Sweepstakes Rules