I'm drinking coffee — bunches (as Barney Kneeknuckles would say) of coffee as I try to recover from December.
Seriously, did December feel like a whirlwind to anyone else?  There was so much that I wanted to do with my family and so many holiday-inspired recipes I wanted to blog this month but hardly any of it happened.  Between school parties and meetings and the same ol' "keeping children alive" routine, there just wasn't room for extra stuff.
(sigh … they're only little once, right?)
But, as I sit here drinking my (one of the ) last cups of coffee in 2013, I can see that despite the fact it was our busiest year yet, 2013 was a very good year for our family.
We officially purchased our home in March (after renting for a few months); moving from Houston was a huge transition for our family but it has been so wonderful to be in Aggieland and out of the world of traffic jams.
We got chickens this past spring!  It's been a joy to have fresh eggs each day and I can't imagine EVER going back to store eggs.  The difference is that big, folks!
I started working outside the home — a feat that hasn't happened since the Little Lady's first year of life.
The Little Lady started Kindergarten and, after a rocky start, is thriving and reading!
Barney Kneeknuckles has started to overcome his expressive speech delay, learning to say "I love you," and is now nearly speaking in full sentences.  We're so close!
I discovered that going grain-free helps my health problems — specifically Rheumatoid Arthritis and Poly-Cystic Ovarian Syndrome.   It isn't easy navigating the grain-free baking world (so many more flops that successes in my experiments) but I'm learning!  (and, yes, the rest of the family still eats grains … so there will still be a variety of recipes on this little ol' blog)
Favorite Recipes from 2013
Looking back over the past year, I can't ignore what happened on the blog — this little hobby helps me stay creative in the midst this busy life … which in turn helps me stay sane.  And, staying sane is always a good thing.
Here are some of my best family recipes — the Top 10 Recipes for the year (based on stats and Pinterest) … and they are all keepers for sure!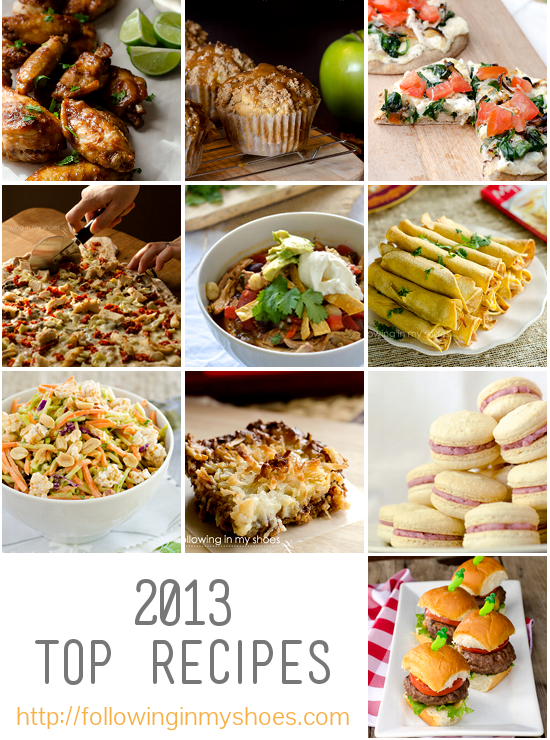 1. Sweet 'n Spicy Slow Cooker Wings / 2. Apple Biscoff Coffee Cake Muffins / 3. Perfect Whole Wheat Pizza Crust / 4. Chicken Alfredo Pizza / 5. Southwestern Roasted Pepper and Chicken Stew / 6.  Easy Baked Chicken Taquitos / 7. Thai Slaw with Roasted Peanuts and Spicy Croutons / 8. Hello Dollies (Magic Layer Bars) / 9.  Fresh Blueberry Buttercream / 10. Stuffed Cheddar Pepper Popper Sliders /
Bonus — My Personal Favorites from 2013.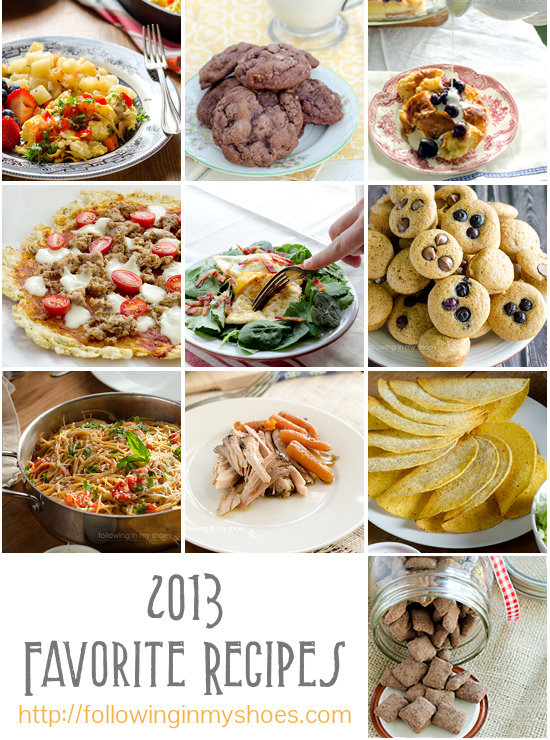 1. Tex-Mex Migas /2.  Double Chocolate Hazelnut Cookies / 3.  Very Berry Bread Pudding / 4.  DIY Italian Sausage / 5.  Fried Chipotle Egg and Winter Greens Salad (my husband still makes this nearly every single morning) / 6. Whole Wheat Pancake Muffins / 7. Whole Wheat Pasta al Pomodoro / 8. Slow Cooker Coffee-Braised Asian Pork Roast / 9. Homemade Cool Ranch Tacos / 10. Mexican Hot Chocolate Muddy Buddies
Favorite Bentos from 2013
I can't do any 2013 lists without including our lunches — which are always a hit with my Kidlets AND readers.  These were the top ten from the year!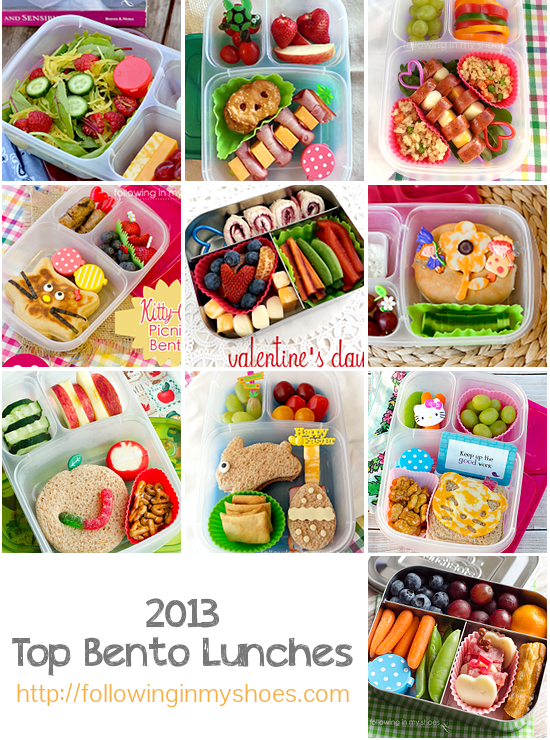 1. Bentos for Grown-ups / 2. Make-ahead School Lunches / 3. Leftovers On A Stick / 4. Breakfast Is The New Lunch / 5. Valentine's Day Lunches / 6. Allergy-Friendly Lunches / 7. Fall Inspired Bentos / 8. Here Comes Peter Cottontail / 9. Easy Hello Kitty Lunch / 10. Simple Picnic Bento
HAPPY NEW YEAR, FRIENDS! I hope 2014 finds you all healthy, happy, and whole!